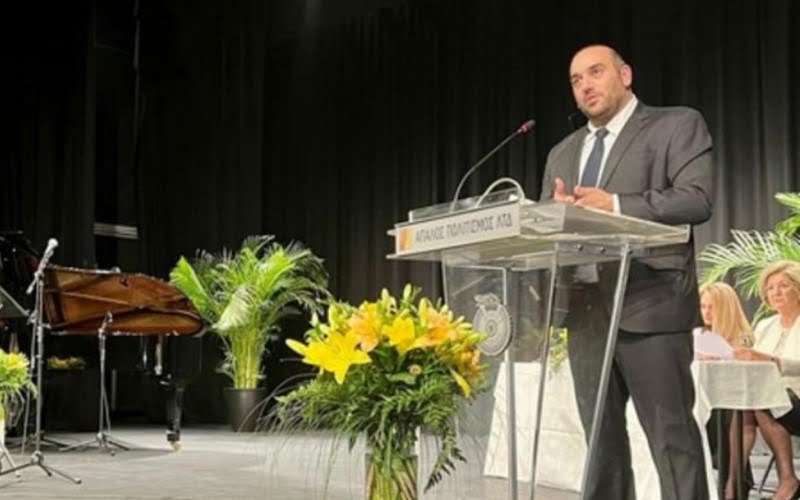 The poetry of Andreas Papacharalambous is a world of contrasts, said Karousos – Greeting of the Minister of Transport at the presentation of the poetry collection of Andreas Papacharalambous "Five Souls"
Download the CYPRUS TIMES APP! HERE for Android and HERE for iOS
The poetry of Andreas Papacharalambous is a world of contrasts, just like life itself, which at the same time springs from the joy of creation, the the splendor of love and optimism, and on the other hand it is lost in the pervasive melancholy of the loss of place and people, said the Minister of Transport, Yiannis Karousos, welcoming on Friday the publication of Andreas Papacharalambous' new poetry collection "Five Souls".
"It is a world rhythmic, alive, contradictory, full of images from the present, the future and the past , full of memories, confessions, and kind feelings", he continued.
The publication "Five Souls" is the third soul deposition of lawyer Andreas Papacharalambous, as it was preceded by the poetry collections "Brother" in 2017 and "Blonde Nicholas" followed in 2020, noted the Minister.
"I would say that the entire poetic creation of Andreas Papacharalambous indelibly captures the experiences, emotions, memories, thoughts, his anxieties. His whole world imprinted on paper, which he communicates with us with too much generosity, managing, with the impressive depth and with the lyricism that the use of the Cypriot dialect allows on the one hand, on the other hand the rhythm of the quatrain, with or without rhyme, but also the sensitivity that distinguishes him as a human being, to convey to us the innermost parts of his soul, he said.