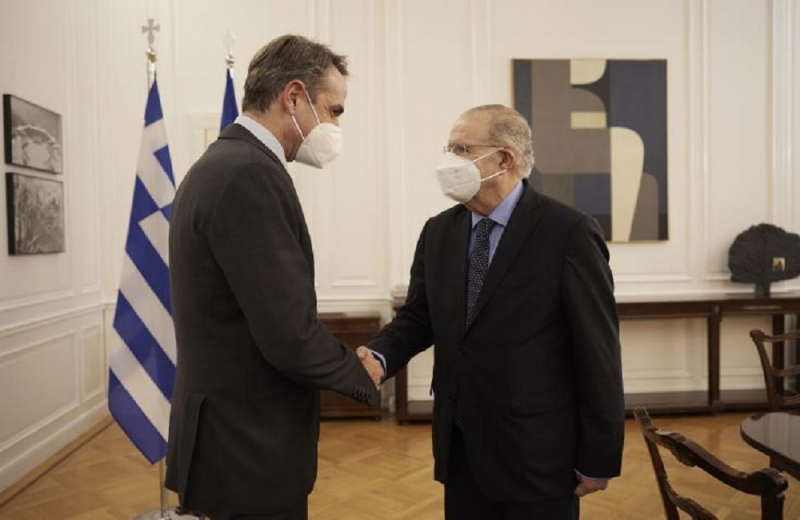 The Cyprus issue, Turkish rhetoric, as well as the trilateral cooperation between Greece and Cyprus with countries in the region, were at the center of the meeting of Greek Prime Minister Kyriakos Mitsotakis with the Minister of Foreign Affairs of Cyprus Ioannis Kasoulidis, who is paying his first official visit to Athens. , after taking office.
Welcoming Mr. Kasoulidis, Mr. Mitsotakis congratulated him on assuming his duties "for the third time, after two previous, long and, by universal recognition, successful terms", as he said.
During the meeting, Kyriakos Mitsotakis and Ioannis Kasoulidis exchanged views on European and international issues of common interest, as well as on regional developments, with a focus on Turkey's aggressive rhetoric.
The trilateral and multilateral collaborations were also discussed, with emphasis on the cooperation with Egypt and Israel, as well as the 3 + 1 scheme between Greece, Cyprus, Israel and the United States.
The Greek Prime Minister reiterated that the common goal of Greece and Cyprus remains to find a comprehensive, agreed and functional solution to the Cyprus problem, based on the Bi-Zonal Bi-Community Federation, in accordance with the resolutions of the United Nations Security Council.
Mr. Mitsotakis also assured Ioannis Kasoulidis that Greece will continue to support Cyprus's efforts to revoke all illegal Turkish actions and to cancel the Turkish attempt to impose new ones, primarily in Varosia.
ΚΥΠΕ