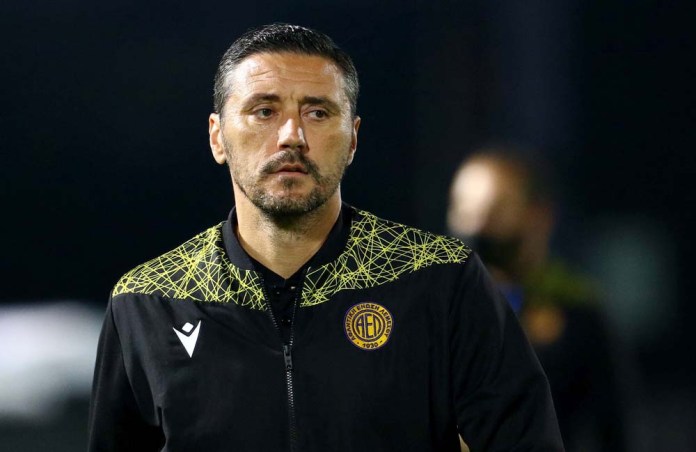 Former AEL coach Dusan Kerkez was invited to Cablenet's show "Without VAR" on Thursday night (20/1).
The Bosnian coach spoke, among other things, about his departure from the Limassol team, the title fight, the proposals he had from Olympiakos-Atromitos, his son, Strachinia, and the possibility of taking over our national team.
Read his posts…
-It is pleasant for me that I was both a player and then a coach and I stayed so long, it is not something that happens often, it is good to slowly change this in Cyprus, to have opportunities to stay more years in each team. I did not expect to stay 15 years, no. I came with a contract for one year! You can have goals but you can not make plans. I found good things here, Cyprus and Serbia are like us. We have a lot of the same things in our lives and that's why I'm thinking about staying here with my wife, the kids started school, it's not so easy to leave, we decided to stay.
For the fact that he had the respect of the people of AEL: " It is good to hear that, that you have the respect of the people. Definitely better players came from me. I have a way of living, of working. I try to work properly, I am not afraid and I always see every person in the eyes ".
About his course on Mars: " Those three years on Mars were nice, we played both first and second division. They are a historical team. It has not been so crowded lately, now it has come back that things have changed. It is good for football, they are good now not only on the field, the team is growing ".
For the championship and the small teams: "The last three years the championship is more difficult because the small teams as we say came very close. The coaches who are better every year helped. We see small teams that found opportunities to bring good players with little money. I do not know if it helped that we played without people, when a big team plays without people it is more difficult and it becomes easier for the small team, it helped them get closer ".
For the cup: " The 2019 cup was something that every coach wants to live. More because AEL has been waiting for this title for 30 years. "AEL lost many finals and that is why it was very important".
If he felt bitter after his departure from AEL: "I definitely did not want to leave this way. It was my decision, I made mistakes as we all do. It is not tennis, it is a team work, we are all to blame together but I decided to leave, I think my circle is closed, now I have to see my career without AEL and AEL without Dusan. I'm happy I played and I was a coach, I can only say good things. I wish good luck to AEL, good continuation. I had the energy to work, to change things, but I decided to leave. We finished in a good way ".
For what went wrong: "We brought players who helped, we sold some, some came who wanted more time, everyone expected AEL to play better. The mistakes I made, I will definitely try not to make them later. I will definitely do other things, every coach makes mistakes. But not the same. We also had some players who were at the top last year and this year they did not play as we expected but there are some personal reasons for some players but it is not right to say publicly. "Football is a puzzle, it can ruin everything."
For the first time he is off the field: "I needed it, to be a little far. Every coach wants a little peace, relaxation, to do some things he can not do every day. Now calmly I can watch football both in Cyprus and abroad. I am calmer for another job. I can not stay without football. I watch some from TV, some from the stands. It is a nice championship and very interesting ".
On the blow from Olympiakos and Atromitos: "A week after AEL I had a blow from Olympiakos but I did not want to, I wanted some time, then with Atromitos, I was not happy, it is not just a matter of money, I have some conditions I want to work. A coach can not do anything alone, I want my staff ".
On whether he intends to stay in Cyprus: "I see Cyprus but also abroad if something good comes. It is important if you are a new coach to see your career, not just money. If what I like comes, I will definitely see abroad. I am currently in Cyprus and if something happens now, or in the summer, we will see ".
For the fact that his name is heard for the national team and if it would be a risk to go: "It is good for me that this was heard, it means I did something good. It is not right to talk now, the national team has a coach. But for every coach it is an honor. The risk depends on how one sees it. He has a new team with good players who can do something. I first say goodbye to the national team and the coach. If an opportunity comes, in six months, in five years, we will talk. Every national. I will not say it is an honor for every country, but it is my country, here where I worked. "I hope we have good results with Estonia."
For the internationals: "We always see the coach but also the players have to believe in themselves. They have quality but they should not put their head down with the first wrong result. They are good players and they have to prove that they are good and they play in the national team and they deserve to play in their teams. It is easy to say that it has many foreigners but no one will bring foreigners if it has better Cypriots ".
For the champion Aris: "Nobody expected it, it was a first a second category. It brought a lot of players in the summer, it was difficult. Liaisos has experience, he did a very good job in Karmiotissa. We must not forget that it has one of the largest budgets. But money does not matter. Is important. When everyone is doing their job on the team and a coach is calm he can work. The protagonist is Liasos. It seems the job. You may have good players who have played in big leagues but ιά Liasos is doing a very good job. No one knows if he will last until the end. It's definitely not just the three that are there, other teams are coming. But Aris, AEK, Apollon have an advantage ".
For AEK and Apollon: "AEK plays better football, more mature. Maybe for some Apollo. Apollon plays differently, has a different style, a different philosophy of the coach. Well done, I may not like it but the result is there. "Other years he played the best football, maybe this year he does not play the best to win a championship".
For Anorthosis: "When he finished Europe he took over, he has quality, a coach who knows the team. It has its own court which is nice to play but difficult for the opponent. He will definitely be there until the end ".
On Omonia and the need for support: "The people who are there know about transfers. Certainly City, which is currently the best in the world, wanted help every transfer window. It is important to bring those who are better than those who have. January we always find it difficult to get ready. "Foreigners are waiting for Cyprus at the last minute."
For APOEL, even if he sees him claiming: "Yes, I see it because they also have passion. As Sofronis said, there were games that ended in a draw and they had to win, now they have strength, they have quality. They had quality in the summer too, but sometimes some players have to understand where they came from. It is not easy to play in APOEL. APOEL will be there ".
For the 12-team championship: "Before we played 14 teams last year, I always said 12. With more teams we have a problem with stadiums, there are not many football fields. It is the GSP, of Anorthosis, the Arena, now it will take place in Limassol. That needs to change. It cannot be changed by the groups or the KOP, it is up to the government to help. It is a pity that Cyprus has five teams in Europe and the above must play GSP in the groups ".
For his son, Strachinia: "Here in Cyprus when a player who has a father who played football, Pittas, Spoliaric, Satsias… has many examples. I see first hand that they have more difficulty than others. Some say it's easier, but it's harder. They have the name on them, what they do… if they play well they play because of the father, if they do not play…
If he admits that he wronged Strachinias for this reason and there were games that could have made him a key player and he did not put him in order for someone not to say something: "Certainly. Exactly! These are things that… for me, the mirror is the stadium. Whatever help someone has. If on the field he does not, he does not. I risked a lot to make him play, but that was also the position; another operation, another cards. He is a talented worker. It depends on him. I knew that if I gave him a chance, everyone would say different things. We did not lose in any games he played. And he played in many ".