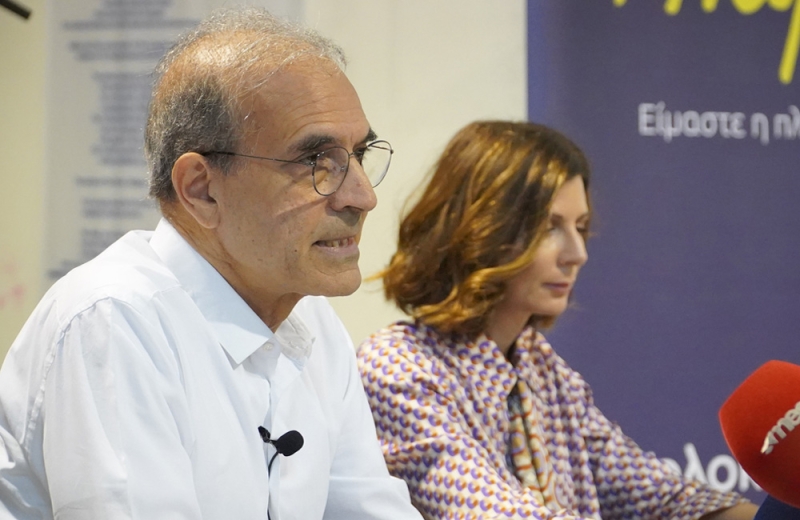 The candidate for the presidency of the Republic, George Kolokasidis, presented today his positions for the negotiation of a solution to the Cyprus problem, far from the model of the Bi-Zonal Bicommunal Federation (DDO), as well as his positions for the fight against corruption and political entanglement. Press conference.
Mr. Kolokasidis called on the citizens to support him, giving him a "clear mandate", based on the positions he presented.
Specifically, regarding the Cyprus issue, he stated that he supports "a change in the basis of negotiations away from the ICC", explaining that the Cyprus he is aiming for cannot be achieved through this model. As he said, it aims at a Cyprus under a united, strong state that will lead it to prosperity, without an occupying army, without settlers, without guarantee rights, that will guarantee the rights of refugees, the human rights of all its inhabitants and be governed and be controlled only by its inhabitants (Greeks, Turks, Maronites, Armenians, Latins).
"That is why we need to inform the international community, change the basis of the solution and, finally, fight for our freedom and human rights," he said.
proposals, emphasizing that "Cyprus and its people can no longer stand this corruption and entanglement, they can no longer stand the partisanship, which sucks the effort of the citizens and leads Cyprus to destruction."
That is why he proposes the appointment of criminal investigators for the criminal investigation of the scandals of the collapse of the banking system, the Cooperation, the Cyprus Airways and the golden passports, as well as the formation of a real Anti-Corruption Authority with investigative powers. He also called for a scrutiny of the Pothen Esches statements of politicians, as well as an amendment to the party law, "so that there is full transparency and control over party finances as well as full accountability for party violations," he said.
He also spoke of "real independence of independent officials in order to control power", the introduction of the institution of referendums and digital governance for the more direct involvement of citizens, as well as the cessation of party sponsorship for the presidential election. stating that "the parties will receive about 2 million euros for the presidential elections".
Moreover, on the occasion of the presentation of his proposals, Mr. Kolokasidis addresses the citizens, asking for their financial support , since, as he explains, he does not receive any subsidy in the context of claiming the office.
"I and all the people who share the positions I represent have started a peaceful revolution – a break with the corruption of the past, we seek "We do not just want to reduce it, we want to eradicate it," he said. of party orientation.
Source: KYPE