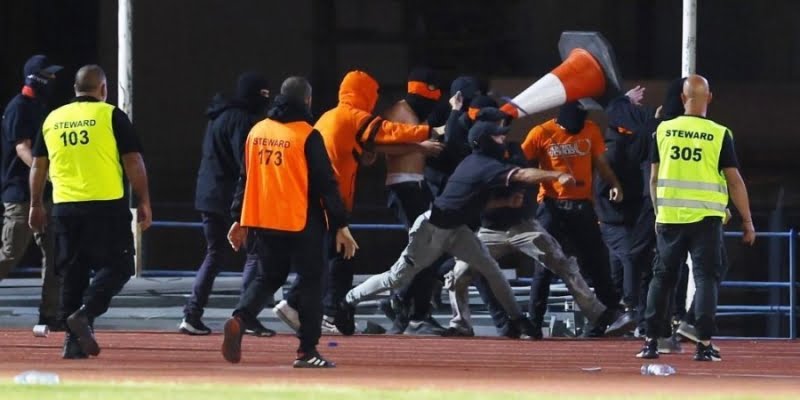 KOP, Police and Trade Unions met this morning in Larnaca and exchanged views on the issue of dealing with violence in football stadiums.
Head of meeting were the President of KOP Giorgos Koumas and the Chief of Police Stelios Papatheodorou.
All participants in the meeting agreed on the need for cooperation since, by general admission, violence has been on the rise since the start of this football season.
"We have reached ground zero. The status quo cannot continue. We must all work together and find solutions for the benefit of football. initially stated the President of KOP Giorgos Koumas, to add:
«Each of us, KOP, Unions, Police and KOA must take the part of responsibility that belongs to him and put an end to deviations&raquo ?.
The Chief of Police asked for the cooperation of the Federation and the Unions in order to eliminate the incidents of violence from football, while referring to the Unions, he emphasized that greater cooperation is needed in terms of detecting riots in the stadiums.
"The police are worried. We had in 22 cases from July until today fights with episodes. We are not claiming that the police are perfect. We're lucky we didn't get seriously injured or worse. As the police, all we want is to go and leave the stadiums safely and that there is no material damage» stated, among other things, the Chief of Police, who also emphasized the great cost incurred by the state in order to have policing at football matches.
Among other things, it was decided that there will be a police presence at the entrances to the Stadiums in order for them to feel more secure. referees to exercise better control over fans.
There will also be an emphasis on the training of referees with the help of UEFA so that they can carry out their duties more effectively and impartially.
In addition, improvement works will be carried out in the Stadiums for better implementation of the fan card law, while other measures are being put in place in cooperation with the legislative authority for a better control of the fans, before they enter the Stadiums.
Read also: Anavan "averta" the flashes from the cameras in Griva Digeni due to damage (VIDEO)