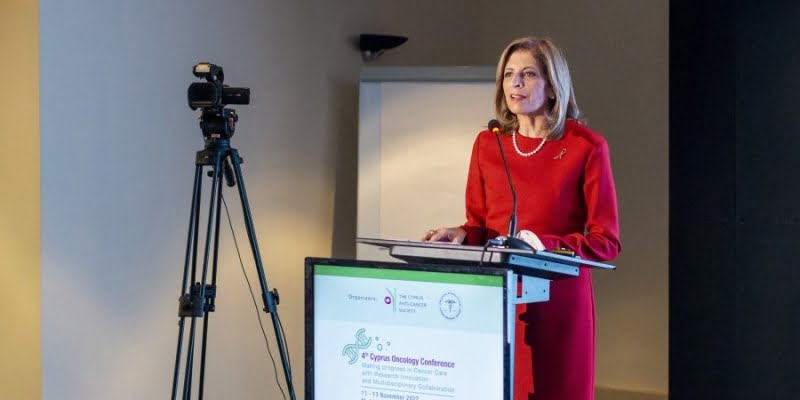 It is unacceptable, in the year 2022, that the way of diagnosis, treatment and survival of a cancer patient depends on the country he lives in Europe, said the Commissioner for Health and Food Safety of the European Commission, Stella Kyriakidou, noting that Cyprus should take full advantage what the European Plan to Fight Cancer offers, for the good of its patients.
The European Commissioner was speaking, on Friday evening, at the opening ceremony of the 4th Cyprus Oncology Congress with the theme "Making Progress in Cancer Treatment through Research, Innovation and Intersectoral Collaboration", organized in Limassol by the Anti-Cancer Association of Cyprus and the Oncology Society of Cyprus.
As Ms. Kyriakidou said, today cancer rates are particularly high in the EU and it is the first cause of death for Europeans under 65 years of age, affecting lives and families, while putting pressure on health systems.
« There is absolutely no doubt that this needs to change. "Several key initiatives of the Cancer Plan contribute to the implementation of these efforts, to the benefit of all EU citizens, including my own country," he added.
Characterizing the specific Plan as one of the most important that the European Commission has to implement, Mrs. Kyriakidou said that each of its actions is within the goals that have been set and "this shows the importance that the Commission has given to its implementation" .
In her speech, Mrs. Kyriakidou referred to three of the actions for research and innovation of the Plan, the first of which concerns the Knowledge Center for the fight against cancer, which was inaugurated in June 2021 and which "helps coordinate scientific and technical initiatives related to cancer, at EU level».
The second action, he continued, concerns the creation of the Cancer Inequality Register, "which identifies trends, inequalities and inadequacies, related to cancer prevention and care in Europe". "It is completely unacceptable that, in 2022, diagnosis, treatment and survival depend on where you live in the EU," he added, pointing out that "this independent data collection and reporting project offers valuable guidance to policy makers as to the areas in which they need to improve».
Regarding the 3rd action, the European Cancer Imaging Initiative, the Commissioner said that preparations are being made for its launch at the beginning of 2023 and through this, all the actors involved, working in all hospitals, in research and innovation, they will be able to access an EU atlas of images related to cancer.' This, according to her, will lead to the optimization of personalized medicine and support innovative solutions in diagnosis and treatment.
Saying that innovation has a key role to play in joint efforts to "change the reality of cancer", Stella Kyriakidou said that this role has become more crucial through the Covid-19 pandemic, as challenges have revealed what needs to be done to strengthening cancer care and maintaining a resilient health system.
He noted that, during the pandemic, there was a delay in preventive checks, an interruption of diagnoses and treatments and a reduction in access to medicines and follow-up, while it is estimated that almost one million European citizens missed appointments for their preventive checks. Also, he continued, the pandemic revealed weaknesses in health systems, where more financial support was needed and where priorities had not been given.
In her report on Cyprus, Commissioner Kyriakidou said that overall, the citizens' health status is at a higher level than the EU average, progress has been made in tackling diseases and the death rate, from cancer, has remained stable in recent years, below the EU average.
< p>At the same time, however, she pointed out that cancer is still responsible for almost a quarter of all deaths in Cyprus and expressed her certainty that much more can be done, especially in the field of prevention.
"We know that early diagnosis saves lives and we must focus on early detection in order to be able to then successfully offer treatments," he said and noted that, according to data from the Ministry of Health, only 3 out of 10 women undergo screening for breast cancer, while the rest of Europe registers twice the number (6 in 10 women).
He underlined, however, that with the new EU Screening Program, for the first time a target is set to cover 90% of the eligible EU population in breast, cervical and colon cancer screening.
In this context, he continued, the European Commission has proposed new European guidelines for screening, which are being discussed by the relevant Ministries of the member states, expressing hope for a positive development.
Among other things, Commissioner Kyriakidou reminded that the EU4Health program has a budget of €5.2 billion until 2027, of which €30 million will be allocated to support and monitor innovative approaches to prostate, lung and stomach cancer screening .
«Further recognizing how important research and innovation is to screening, the EU's Horizon cancer mission has allocated a further €60 million to the development of new methods and technologies for screening and the early detection of cancer", he added.
Saying that, in total, more than 140 million euros will be invested to support member states to develop new cancer screening programs, Ms Kyriakidou stressed that these funding opportunities should not be lost and expressed the hope that Cyprus will take full advantage of what is offered through the available European plans.
He also said that the National Cancer Strategy of Cyprus is intertwined with the European Plan to Fight Cancer and the formulation of policies, both nationally and at the European level, they can work in parallel and in synergy, so that there is a common benefit.
"Together we can make a difference and we have a unique opportunity," which "we have a European Plan to Fight Cancer with a budget of 4 billion euros, a European Commission committed to to enforce and implement it, 27 member states to support it and a European Parliament that has set it as a priority».
Source: KYPE