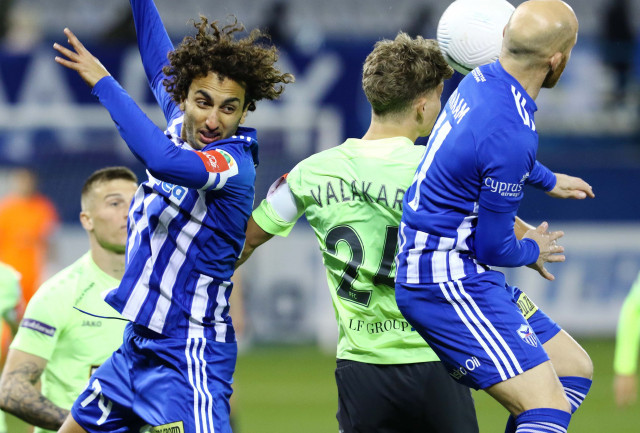 No winner but the qualification was painted blue and white! The game between Anorthosis and Paphos ended in a draw (0-0) in the context of the second phase of the cup. The "Lady" secured the ticket for the "8" in combination with the 3-1 of the first match at "Stelios Kyriakidis".
In today's game there were a lot of hard markings, ups and downs and a good rhythm, but not opportunities. The team of Famagusta managed quite well the result in its favor, which it maintained from the first match, while the corresponding team of Paphos tried to enter the game, but without result. Despite the occupation, the Blues were unable to effectively threaten Loria's home.
From there on, the two teams gather in Sunday's game, which will be held at "Stelios Kyriakidis" for the 20th game. In Anorthosis, they are sitting on burning coals for the match data, as several football players are on the list of the medical staff. Doubtful for the game are Christofi, Kaltsas, Tzour, Christodoulopoulos, while Antoniadis is definitely absent. Popovic made a forced change today, whose condition will be assessed in the coming hours.
We remind you that APOEL, Omonia, ENP, Karmiotissa and Ethnikos have qualified for the next phase of the cup so far.
THE EVOLUTION OF THE MATCH
90 '+ 3 End of the match.
90 '+ 2 Place of Chrysostomos in front of an empty net, Pagic blocked the line!
73 'Fur shot after inaction in the defense of Anorthosis, in the hands of Loria the ball. First good final in the game!
65 ός The pace of the match is good but without opportunities. The match has been balanced so far.
46 ′ Start of the second half.
45 'End of the first half.
43 'Arayuri heads, just outside the ball.
38 'Novotny assists, Rutko overtakes Deletic before scoring.
37 ′ Shot-volley from Drakomir, next to Loria's goal the ball.
33 ′ 37% -63% the occupancy rate.
22 ρισμα Aurelio's turn, in Abraham's body the ball which interrupted the course of the ball that went to the net.
20 θηκε The first 20 minutes were completed without any significant phase, while Paphos is in possession and control.
11 ′ Place of Semedo, the ball countered and ended up next to the home of Loria.
2 Ν High hanging place of Deletic, high outside the ball.
1 ′ Start of the match.
Anorthosis (Timur Ketspaia): Loria, Abraham, Arayuri (60 ′ Escoval), Risvanis, Korea, Artimatas, Husbauer (46 ′ Verhovets), Popovic (53 ′ Chrysostomou), Deletic (60 Νο Noi Abar, John).
Paphos (Darko Milanic): Rutko, Quinta, Hotsko, Semedo, Kovacevic, Aurelio (58 ′ Hestad), Valakari (58 ′ Four), Dragomir (69 ′ Panic), Bairic, Tometsak (46 Πά Talis).
Scorer:
Yellows : 54 ′ Verhovets, 75 ′ Escoval, 90 ′ Artymatas / 39 ′ Hotsko, 52 ′ Aurelio, 90 ′ Panic
Miscarriages:
Referee: Solomou Dimitris
First Assistant: Georgiou Pavlos
Second Assistant: Georgiou Charalambos
4th Referee: Fotiou Konstantinos
VAR: Theouli Chrysovalantis
AVAR: Dimitriadis Marios
Observer: Captain Costas
Like this:
Like Loading …