Security measures both inside and outside the venue are increased by both the Police and armed members of the National Guard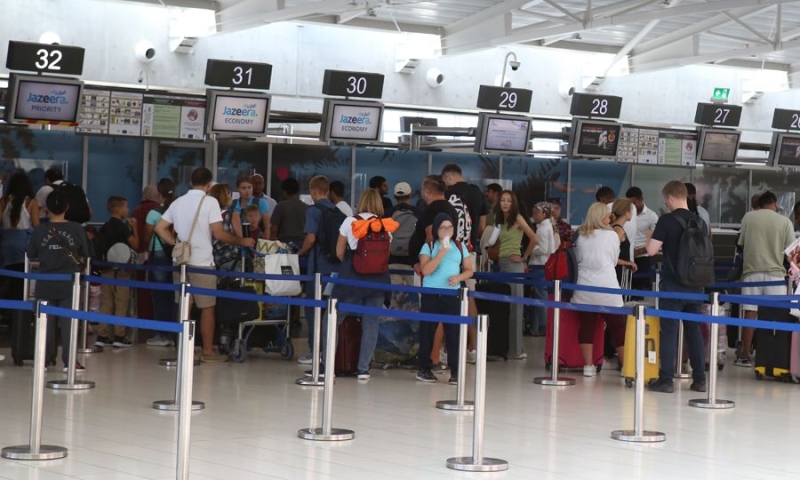 File photo.
Larnaca airport is on full alert in order to respond to the emergency situation created in Israel after the attacks by Hamas and since Sunday serves thousands of Israelis and foreign nationals.
Information from KYPE indicates that the situation at Larnaca airport is "dynamic and changing" as flights are constantly being added to and from Tel Aviv airport, from and to Larnaca airport, carrying passengers.
According to the same information, Larnaca airport is "in full readiness to respond to an emergency situation, providing assistance at all levels and receiving requests from both airlines and passengers".
It is noted that at Larnaca airport, passengers who already have a plane ticket to travel, since it is not possible for a person to book a ticket at the airport, given that all the seats on the aircraft are closed.
Since Sunday, Larnaca airport has become a transit station for thousands of Israeli nationals and foreign nationals, who are staying in hotels in the city waiting to cross into their country to be reunited with their families or to return to their homeland.
< p>The security measures both inside and outside the area of ​​Larnaca airport are increased both by the Police and by armed members of the National Guard, while depending on the amount of passenger traffic, all posts are reinforced with additional personnel.
At the same time, security measures are increased in the Synagogue in Larnaca, in the Rabbi's house, in hotels where Israelis are staying, but also in areas of Israeli interests with the presence of a strong force of Police and motorized patrols.
< iframe width='300px' height='500px' src='https://www.adstorebluebird.cy/api/banner/ServeBanner?zoneId=2734' frameborder='0' scrolling='no'>