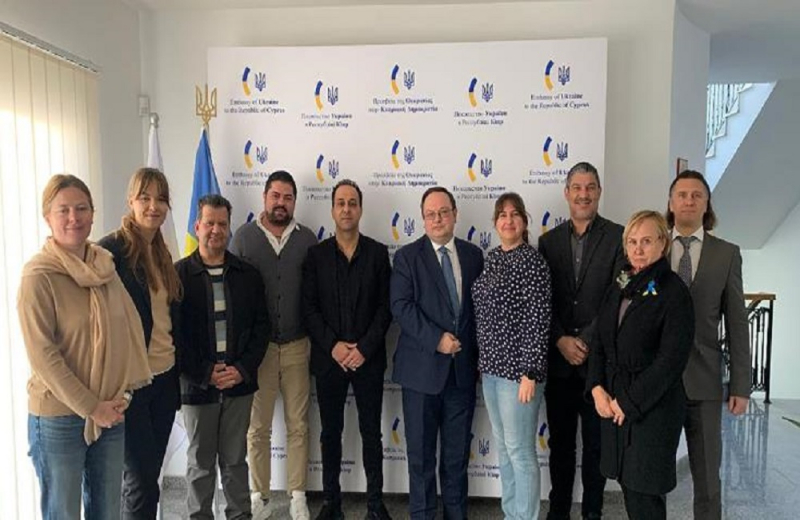 The Board of Directors of the Paphos Recreation Center Owners Association (SIKAP) had a meeting with the Ukrainian Ambassador to Cyprus Ruslan Nimchynsky today. In cooperation with the Pancyprian Federation of Leisure Center Owners Associations (OSIKA), they are ready to offer work to Ukrainian refugees in restaurants, taverns, cafes, with accommodation and food, they said.
According to a relevant announcement of SIKAP, the President of the Association Angelos Onisiforos expressed his full solidarity and support to the hard-working people of Ukraine.
The Cypriot people, he said, have experienced the painful consequences of the ongoing Turkish invasion. possession of part of its territory. He also stressed that as Leisure Centers in Paphos and Cyprus in general, they are ready to offer work to Ukrainian refugees.
The Ukrainian Ambassador, the statement added, welcomed the members of the Association of Leisure Centers, thanked them for their initiative to help the Ukrainian refugees who will come to Cyprus, offering them work. He then referred to the current situation in Ukraine. Members of the Ukrainian-Cypriot friendship community were also present at the meeting.
Following the ambassador's departure, members of the community asked for details on how to employ Ukrainian refugees, who have begun arriving in Cyprus. In addition, as mentioned, it was agreed that SIKAP would inform the owners of Paphos leisure centers about the recruitment of Ukrainians in their centers, pending of course the decision of the competent authorities on how this will be done.
Also, through OSIKA A corresponding information will be provided in the recreation centers of all the Provinces, so that the existing staff needs are transparent. Also, as mentioned, the members of the Ukrainian-Cypriot friendship community will build a special platform with all interested Ukrainians for work, by specialty. In this way and through the platform, every interested entrepreneur will be able to hire staff.
The management of the whole project will be done through SIKAP and OSIKA. It was also pointed out that next week a meeting will be rescheduled between the two sides to proceed immediately and make recruitments.
It was also decided that leisure centers across Cyprus, invite their members to each province to offer food that will be collected and sent to Ukraine.
Source: KYPE