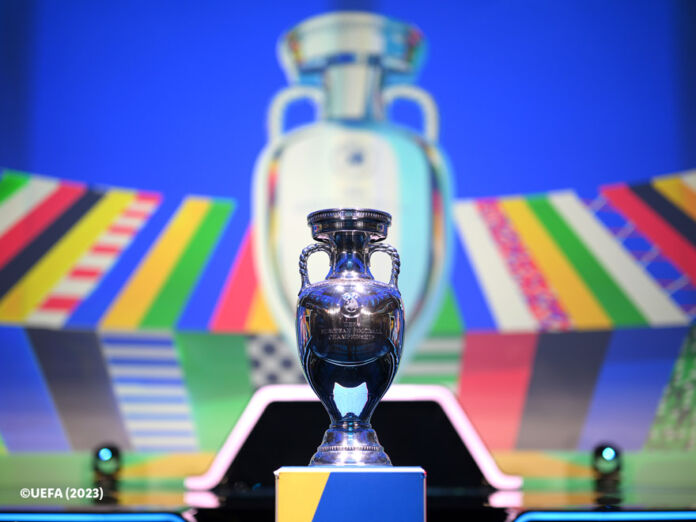 The partnership begins this year, with the start of the European Championship Qualifiers.
This makes Lidl UEFA's global partner for both the European Qualifiers in 2023 and 2024, as well as the final event in 2024.
From June 14 to July 14, 2024, Europe's best national teams will be hosted in Germany, in ten different cities, to fight for the title of European Champion. The qualifiers, which will be held from March 2023 to March 2024, will determine which countries will challenge for the title in the 51 matches of the final event.
As an Official Partner, Lidl, which is one of the leading food retailers in Germany and Europe, accompanies the European Championship Qualifiers as well as UEFA EURO 2024. This is a partnership that could not be more fitting: The Lidl is represented today with more than 12,000 stores in 31 countries, 30 of which in Europe. Just as football inspires millions of people every day, Lidl is a trusted partner for the daily shopping of millions of customers across Europe.
"We are excited to participate in a sporting event that fascinates both our customers and our employees in all countries. Just as our products are available to everyone, we want to help make UEFA EURO 2024 an experience for everyone – for example, through Lidl Fan Zones. Many countries, where Lidl has a presence, will celebrate with us and it is really special that the final tournament is being held in the country where Lidl's history began," said Jeroen Bal, Divisional Board Member Customer of Lidl International.< /p>
At the same time, Lidl wants to use this partnership to highlight the importance of fresh fruit and vegetables, as well as sport and exercise for an active and healthy lifestyle. After all, what we eat and how much we exercise have a huge impact on our health and the environment. Why' for this reason, Lidl systematically develops its range of products based on the Planetary Health Diet, to make it easier for its customers to consciously choose healthy and sustainably produced products. One example is the use of new international standards for marketing campaigns aimed at children.
UEFA Marketing Director Guy-Laurent Epstein said: "UEFA is proud to welcome Lidl as a partner of the European Championship Qualifiers and UEFA EURO 2024. Lidl's presence across the continent will contribute greatly to the promotion of yet another unforgettable event. We also look forward to working together to jointly promote values ​​such as good health and wellbeing that Lidl and UEFA share."
About Lidl < /p>
Lidl, as a member of the Neckarsulm-based Schwarz Group, is among the leading food retail businesses in Germany and Europe. Today it operates more than 12,000 stores and more than 200 logistics centers in 31 countries.
Lidl has been active in Cyprus since 2010. Today it employs more than 700 workers, while its network includes 20 stores and 1 state-of-the-art logistics center.
Visit Lidl Cyprus also at:
corporate.lidl.com.cy
team.lidl.com.cy
lidlfoodacademy.com.cy
facebook.com/lidlcy                    < /strong> 
instagram.com/lidl_cyprus  
youtube.com/lidlcyprus
twitter.com/Lidl_Cyprus_
linkedin.com/company/lidl-cyprus