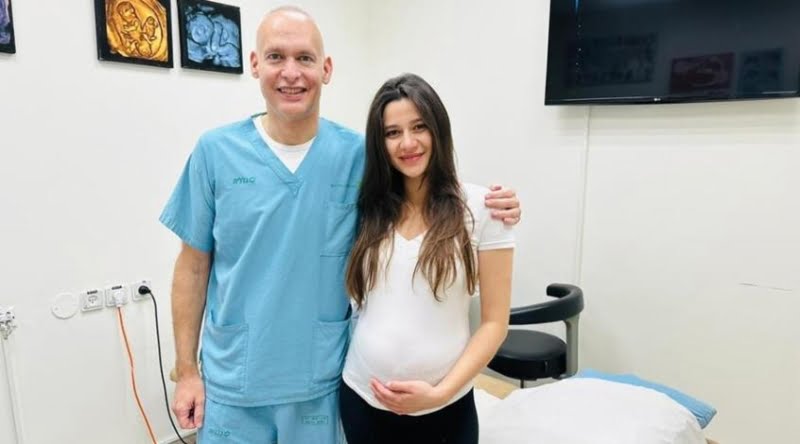 A smile for two parents, who live in Cyprus, was offered by doctors in Israel, who managed to perform a delicate surgery on a fetus, which presented a rare disease. It's about Stephanie Fontanel and her child, who traveled to Israel when she was 28 weeks pregnant.
The young mother, who lives in Cyprus and is married to an Israeli, when she had arrived in Israel, warned the doctors that her child might not live after the birth, as the doctors told her. Stephanie Fontanel was born in Brazil and immigrated with her family to France when she was 18 years old. She then moved to Cyprus when she was 22, where she met her husband, who is from Israel.
"We went to five doctors and they all told us that I should have an abortion, because of the severity of the condition the fetus was diagnosed with. There were two doctors who gave us a 50% chance that the child would survive after birth and I was afraid to take that risk," Fontanel told Israeli media.
Continuing, she added that "despite the fact that the doctors here in Israel explained to me that it was a serious problem, with low chances of survival, I felt that I wanted to continue the pregnancy and fight for the life of this child. Because of this doctor, I felt it was meant to be done and because of his experience, I had a very good feeling that this was the doctor who would do everything to make the operation a success."
The purpose of the operation was to treat the birth defect, called a hiatal hernia. The successful operation was performed last week at Rabin Medical Center by Dr. Yuval Gielchinsky.
"A hiatal hernia is a birth defect, occurring in one in 5,000 children. It is a hole in the fetal diaphragm, which is found in newborn examinations. As a result of this hole, the gastric organs rise towards the chest and affect the development of the lungs of the fetus. In severe cases, the fetus's lungs do not develop and the newborn cannot breathe, so many children die shortly after birth. Today there is intrauterine surgery, which is carried out in various centers around the world. The purpose of this specific operation is to improve the development of the lungs and for the newborns to be able to breathe," he said.