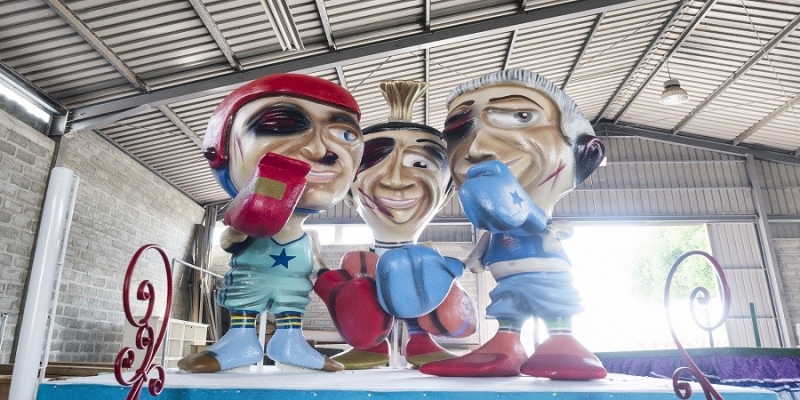 The battle of the presidential elections, the slow rates of exploitation of natural gas and the primacy of Limassol among the rest of the cities of Cyprus, will be the subjects of three satirical tanks of the Municipality of Limassol, which will make the appearance them in tomorrow's big carnival parade on Archbishop Makarios Avenue G'.
KYPE was in the warehouses of the Municipality of Limassol, where the floats and figures are in the final stage of preparation, and was informed about this year's proposals of the municipal authority, which expects to revive and strengthen the presence of satirical carnival floats.
One of the chariots, under the title "Sasmos…Political", is transformed into a boxing ring, with figures of the three main candidates for the presidency of the Republic, Nikos Christodoulidis, Andreas Mavroyiannis and Averof Neophytou.
"In this particular chariot we are satirizing the political ring that we experienced during this long pre-election period, with the three main candidates fighting big battles," said the set designer and director of the Studio8 scenography workshop, Andreas Mavrogenis, who oversaw the entire construction.< /p>
The smiling figures of the three contenders for the presidency, in colorful sportswear and boxing gloves, have blackened eyes, abrasions and bruises on their faces, while the winner of the election battle, Nikos Christodoulidis, is presented with a crown and the number 1 written on his shirt, Andreas Mavroyiannis carries a star and Averof Neophytou the number 3.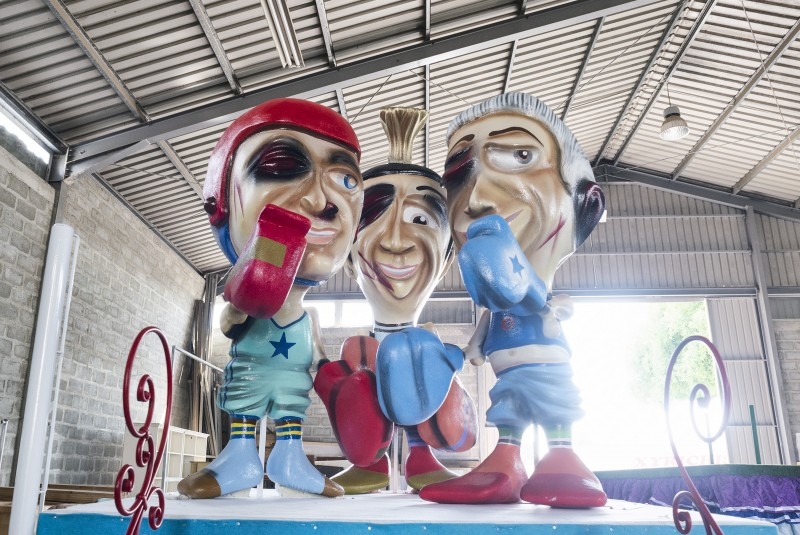 The second satirical float of the Municipality of Limassol, also a construction of the scenography studio Studio8, parodies the chapter "natural gas" and the time-consuming procedures of exploiting the natural wealth of the Cypriot EEZ. A turtle with colorful hair and a hat carries the natural gas in a cylinder, while the chariot is ironically labeled "Express Delivery".
The satirical chariot is a tradition for the Limassol Carnival and cannot be absent from the events. of the Municipality, says Mr. Mavrogenis, adding that, after a difficult period with the pandemic and two years without a big carnival parade, "the world needs laughter and color".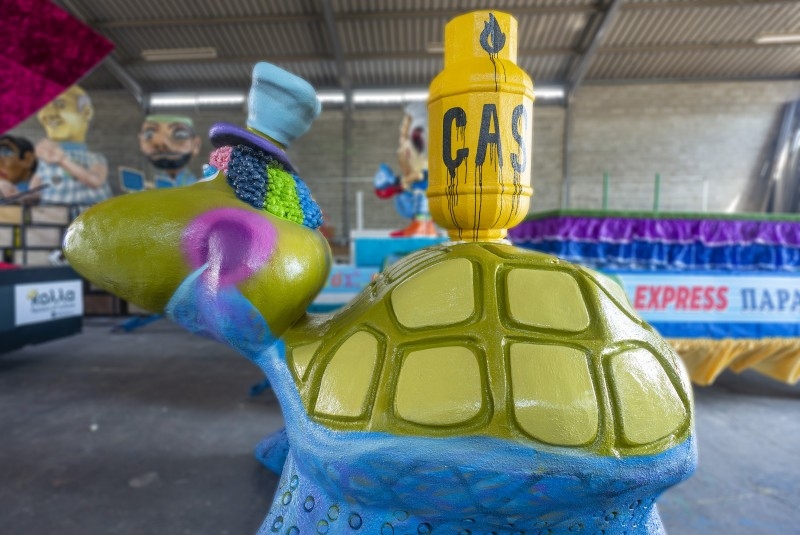 The Skenotechniki company undertook the third satirical float of the Municipality of Limassol, in which Limassol bears the form of the head of a queen wearing a mask, while her long blonde hair has lice, the each of which bears the name of the other towns of the island.
Tomorrow's big carnival parade, which will start at one in the afternoon from the traffic junction of Agios Nikolaos and will end at the traffic lights of Polemidion, will be enriched and other satirical floats built on behalf of carnival groups.