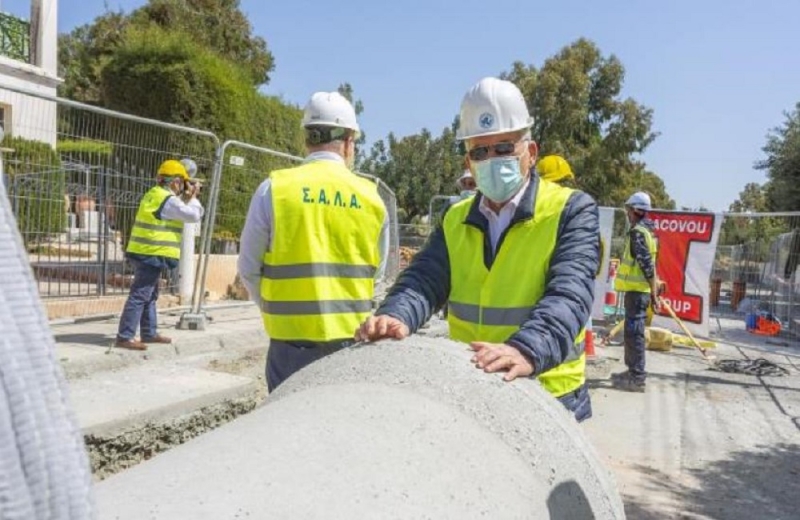 The works for the big flood protection project of SALA in the center of Limassol have started. This is a project with a total budget of 7 million that is expected to finally solve the problem of floods in the center of Limassol and specifically in the area of ​​the Medieval Castle and the main shopping street of the city, Independence Street.
The areas they have suffered severely in recent years as there is virtually no flood protection in the area, despite the large developments and upgrades of previous years.
In 20 months ready
The works, which are in full swing, have started from the northern part of the project, between Vassilis Michailidis and Agias Fylaxeos streets. All the procedures are running according to the planned schedules and the project is progressing smoothly according to the planning of the Limassol Amathus Sewerage Council.
Speaking to "P", the General Manager of SALA Giannis Tsouloftas stressed the need for the project for the city as well as the special provisions that have been taken so as not to delay its delivery. The contract duration of the project is 20 months, but with the aim of accelerating the project but also to avoid additional inconvenience to the public – which will inevitably be caused – in the contract for this project there are strict provisions for the schedule which strictly define the work on major highways and impose large fines if there are delays, as well as a monetary reward to the contractor if he finishes it earlier.
Still, the contract provides for work with the two-shift system and work even on weekends. "The areas that the project will protect are areas that have been suffering for many years and we aspire with this project to give a final end. "Technically, the rainwater will be diverted west to the Garyllis River, thus preventing it from entering the downtown area." added Giannis Tsouloftas. 4 km network Three large main culverts will be created in parallel formation, where they will channel the rainwater to the river Garyllis.
The total rainwater network that will be created will reach four kilometers. This is a project with a high degree of difficulty as it provides extensive excavations on 27 streets in the center of Limassol, many of which are main shopping streets with increased traffic and commercial activity.