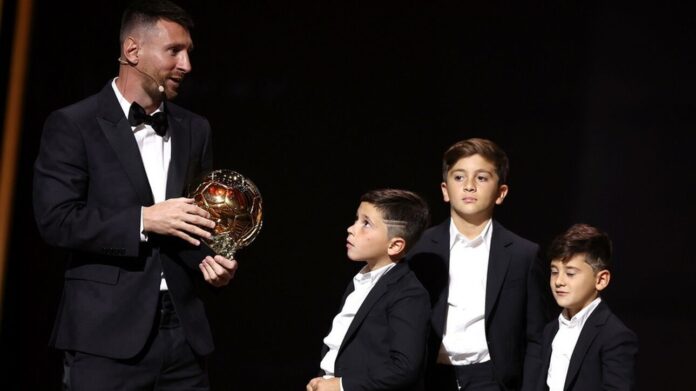 Argentine superstar Lionel Messi has once again emerged as the winner of the vote by winning the Ball d'Or for the eighth time.
It is for a unique record in the annals of football that will be difficult to break in the future. In the glamorous event that took place at the "Théâtre du Châtelet", Messi managed to win the Ballon d'Or in his first year outside of Europe.
Indeed, the announcement of the winner was made by David Beckham, who is one of the owners of Inter Miami.
The Argentine "star" owes his victory largely to the conquest of the World Cup 2022 with the national team his country's team. "Pulga" led the "albiceleste" to the stadiums of Qatar and celebrated the only trophy he was missing.
💬 The speech of the 2023 Ballon d'Or winner, Lionel Messi #ballondor pic.twitter.com/HRaNdRwclG

— Ballon d'Or #ballondor (@ballondor) October 30, 2023
At the same time, he secured the eighth Golden Ball of his career and now has three more than the second on the list, Cristiano Ronaldo.
Le vainqueur du Ballon d'Or 2023 est … Lionel Messi 🇦🇷🏆 #BallondOr pic.twitter.com/hehmrE9CUL

— L'ÉQUIPE (@lequipe) October 30, 2023
Messi even won the award in his first professional year outside Europe, having left Paris after two years at "Parc Des Princes" for Inter Miami of the American MLS.
LIONEL MESSI 8 VEZES PORRAAAAAA pic.twitter.com/hX3znqnOrg

— messi depre (@leomessidepre) October 30, 2023
The final ranking of the "Golden Ball" for 2023:
1. Lionel Messi (Paris Saint-Germain/Inter Miami)
2. Ering Haaland (Manchester City)
3. Kylian Mbappe (Paris Saint-Germain)
4. Kevin De Bruyne (Manchester City)
5. Rodri (Manchester City)
6. Vinicius (Real)
7. Julian Alvarez (Manchester City)
8. Victor Ocimen (Napoli)
9. Bernardo Silva (Manchester City)
10. Luka Modric (Real)
11. Mohamed Salah (Liverpool)
12. Robert Lewandowski (Barcelona)
13. Yassin Bounu (Seville/Al Hilal)
14. Ilkay Gutogan ( Manchester City/Barcelona)
15. Emiliano Martins (Aston Villa)
16. Karim Benzema (Real/Al Ittihad)
17. Kvichsa Kvarachelia (Napoli)
18. Jude Bellingham (Dortmund/Real Madrid)
19. Harry Kane (Tottenham/Bayern)
20. Lautaro Martinez (Inter)
21. Antoine Griezmann (Atletico)
22. Kim Min- Yae (Napoli/Bayern)
23. Andre Onana (Inter/Manchester United)
24. Bukayo Saka (Arsenal)
25. Josko Guardiol (Leipzig/Manchester City)
26 .Jamal Musiala (Bayern)
27. Nicolo Barella (Inter Milan)
28. Radal Kolo Mouani (Eintracht/Paris Saint-Germain)
29. Martin Edgaard (Arsenal)
30. Ruben Dias (Manchester City)
source: CNN Greece