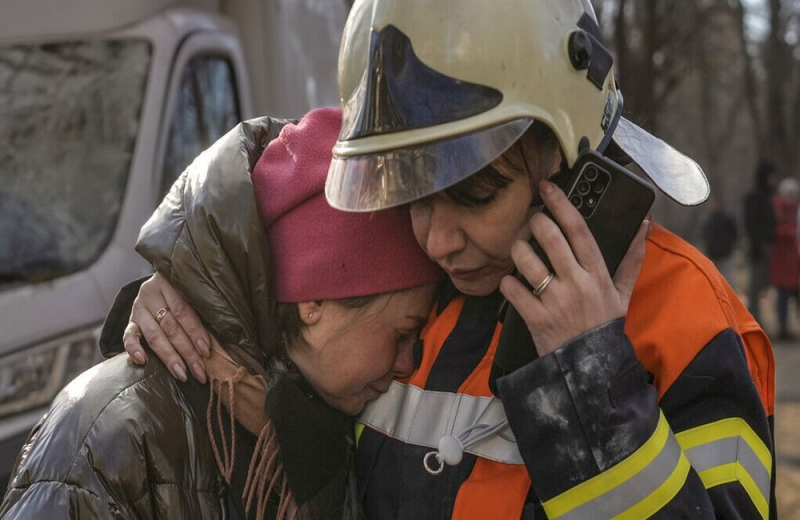 The war in Ukraine closes the third week of hostilities without a glimmer of hope for a ceasefire. On the battlefield, relentless bombardment continues, with civilians increasingly targeted, while no tangible progress has been made on the diplomatic "front."
The fourth round of talks between Russia & # 8211; Ukraine ended on Tuesday night with Kiev negotiators talking about a difficult process, proceeding with & # 8217; obstacles. There are fundamental differences, they pointed out, but stressed that there is certainly room for compromise. The new round of talks is scheduled for Wednesday.
However, during a conversation with European Council President Charles Michel, Russian President Vladimir Putin hastened to accuse Kyiv of "not taking a serious stance in finding "At the same time, Russia is responding to Western sanctions, which are intensifying in retaliation by imposing its own sanctions on US President Joe Biden and other US officials." p>
For his part, however, Joe Biden is preparing for his trip to Europe. On March 24, he will be in Brussels, where the NATO and EU summits will take place, in a new sign of the inseparable unity of the western countries vis-.-Vis Russia. The US president will attend the summits, the White House confirmed today, although he declined to say whether Joe Biden will visit Poland or meet with Volodymyr Zelensky.
The Ukrainian president continued for another day the "tough" calls for NATO to be more active in the war in Ukraine, to the point of questioning the Alliance's commitment to Article 5.
In an attempt to prove the Europe's commitment to Ukraine, in a highly symbolic move, the prime ministers of Poland, Matthew Morawiecki, the Czech Republic, Petr Fiala and Slovenia, Janez Jansa, traveled to Kyiv by train, and met with Volodymyr Zee. p> Minute by minute developments:
Sources: KYPE, ΑΠΕ-ΜΠΕ, protothema.gr , cnn.gr, ertnews.gr