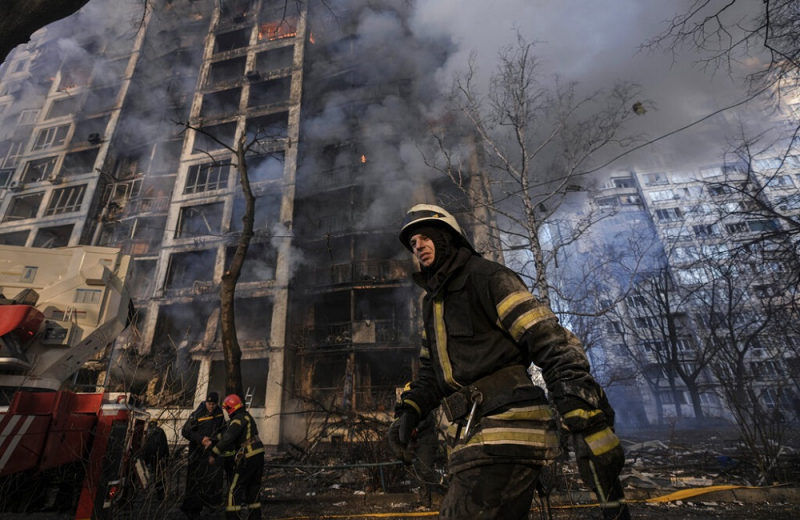 Mikhail Pontolyak, an adviser to the Ukrainian president, said in a Twitter post that there were fundamental contradictions between the two sides.
He added that negotiations would continue tomorrow, Wednesday.
Russian attack on n Odessa, where 14 Russian ships are approaching , according to military sources. Two areas on the outskirts of Odessa were attacked on Tuesday, as broadcast by the ERT envoy in Odessa. The first attack took place in the morning and injured two people, while the second at noon with 90 shells from the Russian navy being fired at a village, where so far no casualties have been reported. Although the historic city of Odessa is under Russian siege, it welcomes hundreds of displaced people.
Meanwhile, the Polish prime minister arrived in Kyiv with his Czech and Slovenian counterparts, he said in a post on Facebook.
"We have to stop this tragedy in the east as soon as possible," said Mateusz Morawiecki. "Janez Jansa, we are in Kyiv." to continue fearlessly bombing major Ukrainian cities, leaving behind Dozens dead, hundreds injured, millions displaced and buildings demolished.
dead , a general anti-aircraft alarm was sounded throughout Ukraine, according to an SMS sent to the residents of Chernihiv . "Attention. Air strikes on ALL OF UKRAINE. Go to the shelters! "In other cities, such as Odessa, local authorities and residents are preparing for the departure of Russian troops from the sea.
Meanwhile, the mayor of Kiev , Vitali Klitschko , had announced that he would impose a 36-hour traffic ban from Tuesday night in the capital, due to the "dangerous and difficult times" lived by its inhabitants . "From today" at 20:00 (local time and Greek time) and until 07:00 on Thursday morning, traffic will be banned in Kyiv, Klitschko told the Telegram, after the Ukrainian capital became the target of many bombings this morning. "Today is a difficult and dangerous time," he said. "The capital is the heart of Ukraine and we will defend it. "We will not leave Kyiv, which is currently the symbol and the advanced basis of Europe's freedom and security," Klitschko said.
Developments minute by minute :
Sources: KYPE, ΑΠΕ-ΜΠΕ, protothema.gr, cnn.gr, ertnews.gr