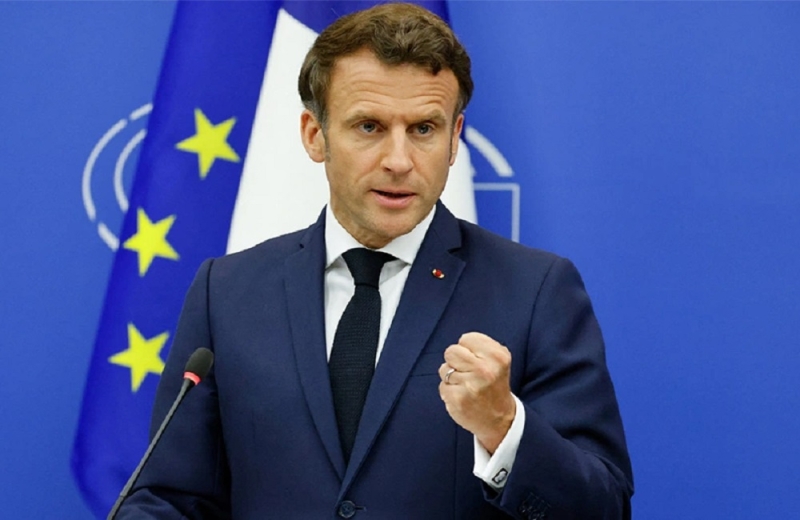 "It is Ukraine that will determine the terms of the negotiations with Russia. We will be by her side to achieve a ceasefire. " This was stated today by the French President, Emanuel Macron Speaking at the European Parliament in Strasbourg on the occasion of the Conference on the Future of Europe, he added that when peace returned to European soil, ». He even clarified that the accession process of Ukraine will last for many years, "maybe decades".
"Our goal in the face of Russia's unilateral decision to invade Ukraine and attack its people is to end this war as soon as possible," he said. He also stressed that the EU should do everything possible to maintain peace on the rest of the European continent and to prevent the escalation of the war beyond Ukraine.
On European sanctions against Russia, Macron he said it was "unprecedented" and aimed to block the sources of funding for this war. At the same time, he stressed that the EU continues to support Ukraine, mobilizing, as never before, important military, financial and humanitarian. He added that the EU should step up its efforts to tackle food safety effectively.
"We will fight against the impunity of unspeakable crimes committed by Russia in Ukraine," he said. Macron, however, noted that the EU is not at war with Russia. "We act as Europeans to maintain Ukraine's sovereignty and territorial integrity, to restore peace to our continent," Macron said, adding that "it is Ukraine's responsibility to set the terms of negotiations with Russia." He also noted that the EU's debt is to stand by Ukraine in order to achieve a ceasefire and peace. "Then we will be there to rebuild a European Ukraine," he added.
A European "political community"
Emanuel Macron reform the texts of the EU Treaties in order to make them more effective, which means quick and united decisions in important areas.
"One way of this reform is to convene a treaty to review the Treaties. It is a proposal of the European Parliament and I approve it ", said Emanuel Macron, while he stressed that he wants a first debate, with the necessary" courage "and" freedom ", at the European Council in June.
The creation of a "European political community", a parallel "EU", which will allow the democracies of Europe to find a new framework for political cooperation and security, was proposed by the French President, Emanuel Macron, speaking at the closing ceremony of the Conference. In fact, he said that this community will be open to countries that want to join the Union, but also to those that have left but are considering their return, in a report that was obviously about Britain.
In fact, on the occasion of Ukraine's application for EU membership, Emanuel Macron said that although this country is a "member of the European family", he admitted that even if we give it the status of a candidate country tomorrow, we all know very well that the accession process will undoubtedly take many years, perhaps many decades. " Em. "This is the reality," Macron said, "unless the EU decides to lower its membership standards." In the new geopolitical context, we must clearly find a way to think about Europe , its unity, its stability ", Macron continued.
" The question remains, how to organize Europe. It is our historic duty to respond today. And the answer is to create what I would call a European political community. "This new European organization will allow European democracies to find a new framework for political co-operation, security, energy co-operation, investment in infrastructure, the movement of people and especially young people," he said.