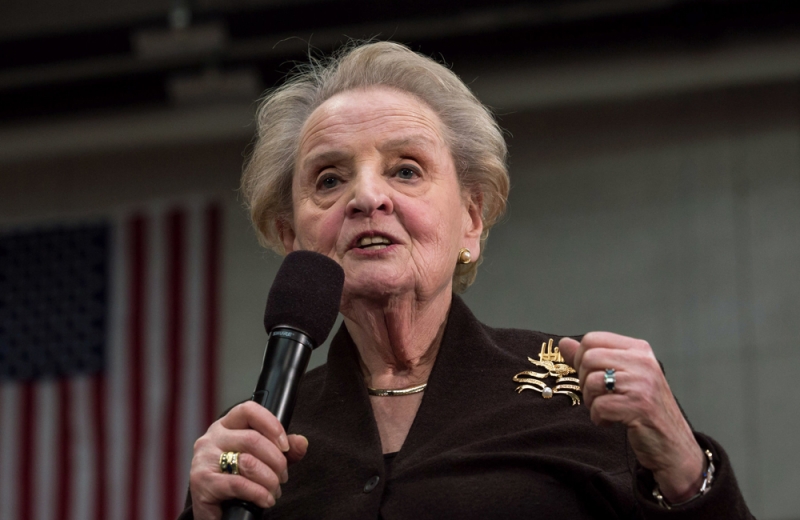 >
As her family announced, she was suffering from cancer.
#BREAKING Former US top diplomat Madeleine Albright dead at 84: family pic.twitter.com/YShTEDut2j

— AFP News Agency (@AFP) March 23, 2022
Who was Albright
Albright was a central figure in President Bill Clinton's administration, first serving as US ambassador to the United Nations before becoming the country's top diplomat during his second term.
which pushed the alliance to intervene in the Balkans. The fruit of these pressures was the "Allied Force" operation carried out in Kosovo by NATO forces from March to June 1999.
Madeleine Albright sought to reduce nuclear proliferation and defended human rights and democracy around the world.
The war on terror triggered by the attacks of September 11, 2001, a time that was announced by President George W. Bush as a "new order".
Below is a statement from the family of @Madeleine: pic.twitter.com/C7Xt0EN5c9

— Madeleine Albright (@madeleine) March 23, 2022
Madeleine Albright was born in Smihov, Prague, in the former Czechoslovakia, and moved to the United States with her family.
Her father, diplomat Joseph Korbel, moved with his family to Denver, Colo. Albright became an American citizen in 1957.
Albright graduated from Wellsley College in 1959 and completed her PhD at Columbia University in 1975, writing her dissertation on the Prague Spring.
< p>He worked as an aide to Senator Edmund Muskie before taking office under Zbigniew Brzezinski in the National Security Council. She served in that position until 1981, when Jimmy Carter was not re-elected president. Foreign Policy. Following Clinton's victory in the 1992 presidential election, Albright helped him form his National Security Council.
In 1993, Clinton appointed her ambassador to the United Nations. She held her position until 1997 when she succeeded Warren Christopher as Secretary of State, a position she held until the end of Clinton's term in 2001.
Albright has been president of the Albright Stonebridge Group since 2009, while In May 2012, he was awarded the Presidential Medal of Freedom by the President of the United States, Barack Obama.