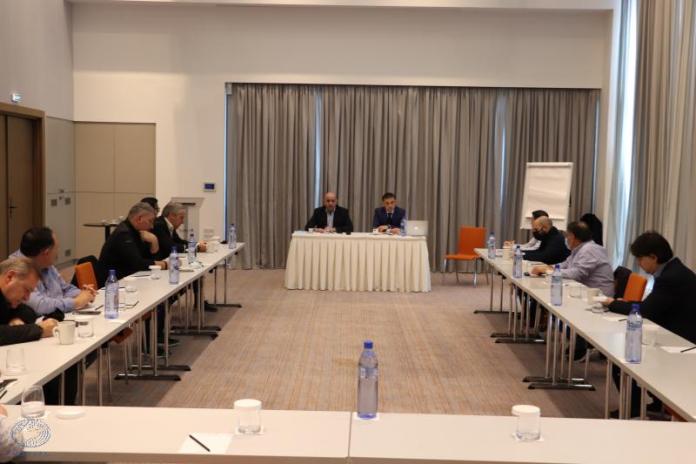 Today, the Chairman of the Arbitration Committee of the KOP, Milorat Majic, had a meeting with the Presidents and Representatives of the First Category Associations.
Analytically:
The meeting took place in Larnaca in the presence of members of the Executive Committee of the KOP headed by the Vice President Haris Loizidis. Also present on behalf of the KOP were the Vice Presidents Nikos Nikolaou, Fotis Fotiou and Michalis Pekris as well as the EU member. Euripides Loizidis.
The Associations of Apollon, Aris, Anorthosis, APOEL, Olympiakos, Omonia and Paphos were represented.
The meeting took place in the context of the effort for better communication between the Clubs and the Federation on refereeing issues and is also part of the requirements of the UEFA Criteria.
Mr. Majic took stock of his presence so far in the Presidency of the Arbitration Committee, analyzed his philosophy and vision for the Cyprus Arbitration and stressed that his goal, apart from the smooth completion of the events, is to create the next day of the Cyprus Arbitration arbitration, leaving the project behind when he leaves.
This was followed by a discussion and exchange of views in a very constructive atmosphere with the representatives of the Associations raising with Mr. Mazic the issues that concern them in relation to the arbitration.
The joint effort of all, the Federation, the Refereeing Committee and the Clubs is the completion of an intense and competitive football season in the best possible way and in this direction was the discussion that followed.
Among other things, Milorat Majic clarified that he can not guarantee the permanent presence of foreign referees in the VAR until the end of the season as there are many unbalanced factors that affect the descent of foreigners and long-term planning can not be done. plans for foreign referees to come to the field.
He stressed that the renewal of the Cyprus refereeing with young, promising referees can not be done overnight but gradually and in the right way and that, the experience of the older referees is necessary.
He noted that he has the sole responsibility for all matters concerning the refereeing and clarified once again that the Associations can not access the referees' talks – VAR because this is contrary to the instructions of FIFA and UEFA.
He said that the referees in Cyprus are under unprecedented pressure from the positions of players, clubs and the media, much larger than all the countries in which he has experience and that this makes it very difficult for both his own effort and that of the referees.
At the same time, he thanked the Presidents and the Representatives of the Associations for their presence in today's meeting and told them that, if and if necessary, similar meetings will follow in the future.
Like this:
Like Loading …