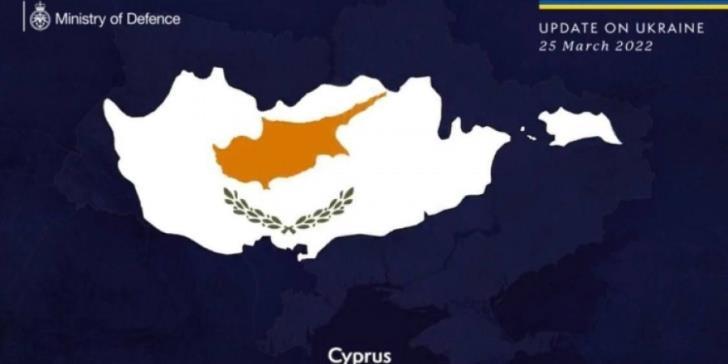 & nbsp & nbspΑνδρέας Πιμπίσιης & nbsp; & nbsp;
In three days, on April 1, 2022, Cyprus will celebrate the completion of 67 years since the beginning of the liberation struggle of EOKA 1955-59. A struggle aimed at the liberation of the island from British rule. And despite the island's independence 62 years ago, suspicion between Nicosia and London continues to exist, in one way or another, mainly on issues such as the Cyprus problem. & Nbsp;
The Cypriots on the one hand consider the British to be behind any fraudulent plan directed against Cyprus and on the other hand the British in their own way indirectly or directly confirm the Cypriot suspicion, even if they appear in public in a good mood . & nbsp;
To this long history of suspicion was added another action on the part of Britain, which the Cypriots do not consider to be a coincidence. A video in which only the territory ruled by the Authorities of the Republic of Cyprus is presented. It is essentially an act of cutting the island, after removing the occupied territories in the north and the areas of the British bases in the south. & Nbsp;
The UK Department of Defense has released a video of countries condemning Russia's invasion of Ukraine, which depicts Cyprus without the occupied territories and the two areas of the Bases in Akrotiri and Dhekelia. & Nbsp;
In The video, which was posted on the UK Department of Defense's social media accounts (MKDs), flashes the flags of countries condemning the invasion. The entire video is just 30 seconds long, with countries moving very fast. Only someone who knows the map of Cyprus can understand the British trick. & Nbsp;
SEE ALSO: & nbsp; The British Ministry of Foreign Affairs "haircut" Cyprus (video) /p>
And those who know from Cyprus realized it and reacted accordingly. In the occupied territories, it seems that they were the first to notice, and hurried to express satisfaction because they consider that it is "for the first time that an official body of the United Kingdom portrayed Cyprus as divided and accepted the reality".
And there it was noticed in the Greek Cypriot media which published the video in question with critical comments against Britain. As a result of the uproar, the British removed the video in question from their social media accounts. & Nbsp;
However, questions remain about the British action, especially given that this map was presented by an official body of the United Kingdom and especially a ministry that knows the Cypriot territory very well. That is why the event is not considered, by many circles, as a random event. The map as presented covered with the flag of the Republic of Cyprus shows the territory controlled by the Cypriot authorities. The post was about the countries that condemned the Russian invasion of Ukraine, and in which countries against the British Cyprus is not the whole island but a part. & nbsp;
In a statement, the Democratic Alarm states that "the UK Department of Defense has posted on social media videos of countries condemning Russia's invasion of Ukraine, which depicts Cyprus without our occupied territories and British territories. Bases ". He added that "despite the fact that this video has been removed, we are confident that our government will proceed with all the necessary manipulations and actions for the occasion."
EDEK in a statement condemns the video in question and notes that "this move by the British Ministry of Foreign Affairs is another confirmation of the suspicious and subversive role of Britain to the detriment of the Republic of Cyprus." According to EDEK, "the tolerant attitude shown by the Cypriot Government nurtures even more the British subversive role". Taking occasion from the incident, EDEK considers that "the process of removing the British Bases from Cyprus should proceed as their presence is illegal, unconstitutional and has no legitimacy".
ELAM " denounces and condemns the specific action of the United Kingdom Department of Defense. At the same time, he calls on the Government to do the right thing, as well as the competent Ministries of Foreign Affairs and Defense, hoping that Mr. Kasoulidis will not tell us the inimitable thing again: "what do you want me to do?" ELAM states that they could not expect a different treatment from the UK when only the same reacts and raises the issue of British Bases. And on the occasion of the events, they reiterate "the clear request for the final withdrawal of the British Bases from Cyprus".