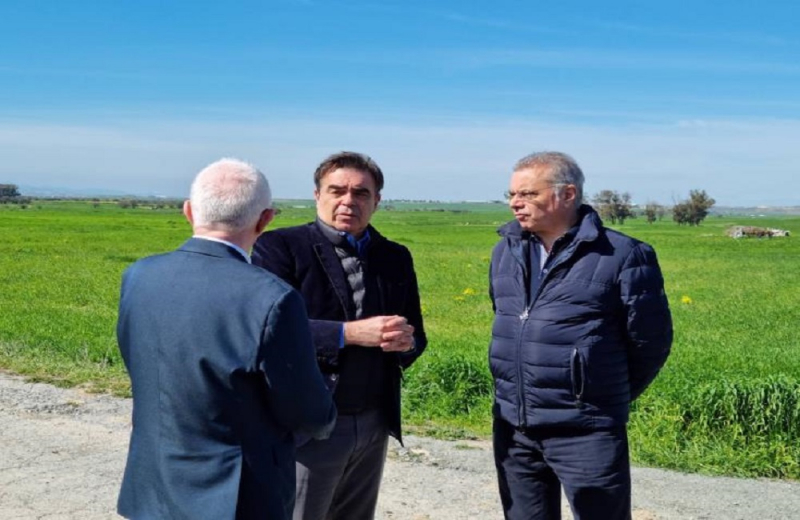 The Republic of Cyprus will be assisted in the management of all asylum and reception procedures and with generous Community funding, said the Vice President of the European Commission Margaritis Schoinas, noting at the same time that there should be a big wave of returns because without returns, those who have no right to be on EU soil "we will not succeed".
He also said that in March he will visit Istanbul and personally address the issue of the causes of migration flows.
Mr. Schoinas visited parts of the Green Line accompanied by the Minister of Interior Nikos Nouris.
In statements from the STEK outpost at the entrance of Athienou, Mr. Nouris stated that the presence of the Vice President of the Commission and his associates in Cyprus is "the culmination of the last visits of European officials that we had recently". "It clearly shows what we are asking for," he said, "the practical support of the European Union to the huge problem that our country is facing."
Addressing Mr. Schoinas, Mr. Nouris said that "our country, Mr. Vice President, you know very well, unfortunately for the last five years it is the EU Member State that receives the largest number of immigrants and of course this has created a great burden. for the Republic of Cyprus both in matters of management and of course in matters of reception ".
So we are here today in the acritic of Athienou, said Mr. Nouris, "in one of the many places, which are an open wound on the green line and through which dozens of illegal immigrants pass on a daily basis, because very simply, as you can see, "There is absolutely no obstacle to restricting these crossings and this is something that we need to manage in the best possible way, given the weight the country is facing."
That is why, he said, "we are claiming EU support for both the management of the Green Line, which, I want to emphasize for the umpteenth time, is not our external border, but we are claiming yes, the implementation of management measures. by analogy with Europe's external borders in order to reduce this very problem. "
At the same time and for the same reason and because we know the root cause of arrival of these migrants, the irregular flows, we claim, said the Minister of Interior "and we ask the FRONTEX service of the European Union, both the surveillance of the southern coastal areas of Turkey by boats with irregular migrants depart daily, as well as the placement of a FRONTEX representative at Istanbul Airport to check on flights to the occupied Tympus, from which also arrive daily particularly African illegal immigrants, mainly from the countries of origin. Africa ".
Mr. Nouris said that "it is for this reason and for these problems that our country is facing, that Cyprus, Mr. Vice President, is an ardent supporter of the need to finally reach a single European immigration and asylum in Europe and that is why Of course, we also support the initiatives of the French Presidency. "
We need a similar policy, of course, so that we do not have the phenomena of 2015 again, he added.
The Minister of Interior stressed that "we ask the EU to advise Turkey to stop this instrumentalization of immigration". And of course, he said, "it is for this reason that we demand in both the various councils and at the level of the European Commission, the necessity of having and taking such measures, so that they help us on the one hand to limit the flows from the green line, because only in this way will we reduce the burden, and on the other hand maximize the returns, especially to the so-called safe third countries, something that for Cyprus is a necessity to happen, and even immediately ".
Addressing the Vice President of the European Commission, Mr. Nouris said: "Friend Margariti, Cyprus is suffering, Cyprus is in danger." I think, he noted, "the problem we are facing is much clearer, it is clear from here, and we are sure that we will have the help and support and understanding of the European Commission, which is also evident through the fact that we have already reached an agreement. framework that is transformed into a memorandum which we will sign tomorrow in the presence of the President of the Republic of Cyprus Nikos Anastasiadis ".
For his part, Mr. Schoinas stated that "from the first moment I took office, in December 2019, I was convinced that no one can manage the EU's immigration policy if he is not in the field, if he is not where there is a problem, next to the people who manage it, and in the local communities ".
" I was in Evros on Clean Monday 2020, I was hours later in the fire, in Moria in Lesvos, I went with "Papa, I was in Lithuania, but what I see today here on the green line shocks me," he said.
The Vice-President of the Commission went on to say that "the perception of the problem from a distance is completely different from what I see here now". It creates, he said, "a big problem not only for the Republic of Cyprus, but also for Europe because here we stand there are two very important peculiarities."
The first peculiarity, he said, "is that, as the friend Minister rightly said, here we are not standing on an external border of the Union, here we are in Europe and the second peculiarity is that while we are in an EU Member State which due to size, and available resources needs to carry on its shoulders an extremely large, disproportionate burden of responsibility for the whole of Europe. "
" My presence here, which shows that your problem is a common European problem. It shows that it should be the occasion for action, not for words. You know me. I have never been a proponent of a Europe of analysis, I have always been a proponent of a Europe of action. "
So in this area now, the business, he said, "we need to focus on some specific elements of action." First, he said, "let's see one & # 8211; one of the causes of the origin of these flows, and to deal with them on the Turkish coast, and on the flights of the Turkish airlines and at the airport of Istanbul ". He added: "In my previous contacts with the Turkish authorities, I have found that there is a basis for goodwill and conciliation, which he attributed to Belarus. "I want to believe that we will find a similar field of cooperation here as well." >The second equally important field of action, as he said, "is that the Republic of Cyprus must be assisted in the management of all asylum and reception procedures with generous Community funding and the third element is that there must be a large wave of returns because without the returns of those they have no right to be in the territory of the European Union we will not succeed ".
According to Mr. Schoinas, "in these three fields of action, tomorrow at the Presidential Palace with the President of the Republic of Cyprus, with the Minister of Interior and in connection with Brussels with the competent Commissioner and all EU Services, we turn the page on immigration management, we sign a new strategic memorandum of cooperation of the Republic of Cyprus, in which the role of Nikos Nouris was extremely important ".
" We mobilize every available action, resources and service at European level, we have an action plan "which will be the annex of this memorandum and from tomorrow we will move on to the operational management of the problem", he assured.
He expressed the belief "that through this new beginning we will be able to help the Republic of Cyprus and the local communities represented here through Mayor Athienos but also of course Europe as a whole".
He noted that " we must stop working in immigration in Europe as firefighters. To constantly run from crisis to crisis. It's time to work as architects. "A new holistic, coherent European framework for managing migration and asylum." .
Addressing the Minister of Interior, he said "I want, friend Nikos, from here on the green line to ask the Republic of Cyprus to be a protagonist in this negotiation, I want you to lead this positive response because we need this great European agreement, as soon as possible". "And it goes without saying, but I'm saying that I want you and the Republic of Cyprus to believe that in all your efforts I will be a supporter and helper, not just a friend," he added.
Asked about a two-meter, two-station policy from Brussels, he replied that "80% of what I said in my position answered your question."
"There are no two meters and two weights, in no case is Cyprus alone in this struggle, we are by its side operationally, not only academically and verbally, tomorrow, we will announce to the President the specific operational actions that I developed and now in all these the levels, causes of origin, flow management and returns ".
A very important thing that I want to clarify, said Mr. Schoinas, because very often comparisons are made with Belarus. "In Belarus we have an external border of the Union and we had a hybrid threat," he said. "In other words, we had twenty – twenty – five thousand people who were trafficked to attack Europe. Here we have again a very special situation which requires special and adapted action ", he added.
Mr. Schoinas expressed his joy that all his interlocutors, as he said, with the Minister of Interior in the forefront and the entire administrative and political structure of the Republic, have fully understood the peculiarities with which we must work. So it is not an issue that is offered for easy words, it is an issue that requires very hard and detailed work, he said.
Asked by a journalist about the natural obstacles that the Republic of Cyprus seeks to put in the area of ​​the green line, Mr. Schoinas said that "indeed the specificity of the area and the extensive and topology are factors that complicate the efforts". I'm not sure, he noted, "that there is a magic solution to a button you have to press to resolve the issue." "Here the equation is very factorial and I say again that I am very reassured because now I see that we have a full understanding of all these factors that go into the equation," he said.
There is a tendency in politics, he said, "to try to explain difficult and complex problems in one simple word. This approach to the issue we have here is not offered. " He asked for space and time "to develop all these initiatives here", noting that many of them will have technological features, others will have monitoring features. We do not need to say everything in political terms, but give us the space and time to work and I assure you that we know what needs to be done here. "
Asked what has changed in the EU so that there can be something better in its immigration policy, Schoinas said: "What has changed now is that this Europe, which buys 2.5 billion doses of vaccine, cannot. which has a recovery fund with resources comparable to the Marshall Plan, which has the largest market in the world, which is a world-class democracy, this Europe cannot but have a single immigration policy. That has changed. "
And the world around us, he said, "reminds us of the need to have it. "What we saw in Evros, in Belarus, what we see here now, is the time for this great agreement." He expressed his optimism that after the Presidential elections in France "we will move quickly towards this concrete solution".
like all our neighbors, they have to realize a very simple thing. As for immigration, they have a lot to gain if they work with Europe, rather than if they work against Europe. This lesson was given in the best way in Evros on Shrove Monday 2020, and Evros helped a lot in & # 8220; messaging & # 8221; ».
When I had to go to Istanbul and Anchor for the Belarus crisis, he said, "I found that there is a will to cooperate. I want to believe that here in this case we will find a corresponding will ".
KYPE