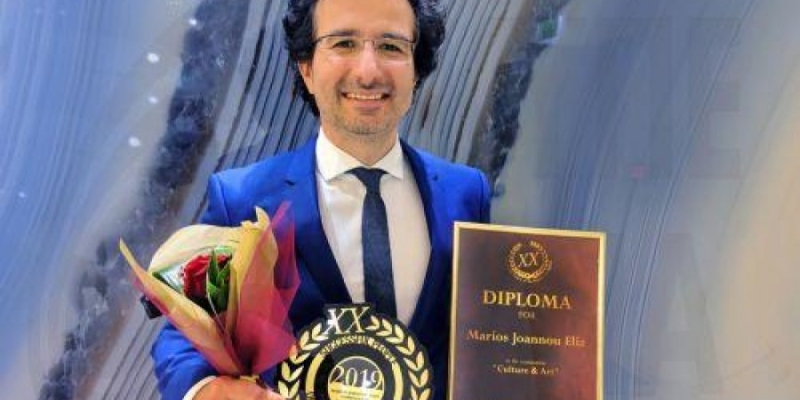 The Cypriot composer, Marios Ioannou Ilias, is the Ambassador of the Hellenic Institute of Cultural Diplomacy in Cyprus.
An announcement by the Hellenic Institute of Cultural Diplomacy in Cyprus states that the President of the Institute, Ilias Papadopoulos, stated that "it is a great honor for us to we declare Ambassador Marios Ioannou Ilias, a real ambassador of Greek Culture abroad, an accomplished artist but also an experienced administrative technocrat of culture".
He added that Marios Ioannou Ilias, "promotes the history and culture of Cyprus and Greece internationally". planning actions and events inside and outside Cyprus", said Ilias Papadopoulos.
The Hellenic Institute of Cultural Diplomacy with headquarters in Athens and 15 branches in Europe, USA. and Africa has the role of playing a significant role in the intellectual life of Cyprus and Greece by contributing to the upgrading of the country's image abroad, to the strengthening of young talented artists and to the creation of a cultural substrate capable of pushing the citizen to feel the obligations he has not only against himself but also against the society in which he lives, the announcement states.
Marios Ioannou Ilias is a composer, director of artistic and cultural institutions and academician. He comes from Kyrenia. He served in the Navy and National Guard Military Band. He studied in Salzburg and Vienna. He was the artistic director of important institutions in Europe, Russia and Asia.
He is a member of councils, among those of the "Slavonic Europe" based in Brussels, for the strategic international cooperation between peoples through culture, the scientific advisory group of the "European Delphic Spiritual Movement" based in Athens and member of the artistic and scientific board of experts of the "International Community of Multi-Aesthetic Education" based in Salzburg.
He supervises doctoral theses at the Royal Conservatoire of Brussels and at the advanced master level at the University of Trieste. He has taught, lectured at universities and international conferences around the world. Since 2018, he has been the head of the Arts Department at the Evaluation Committee of the European Academy of Sciences and Arts.
He was a consultant to a number of European cultural institutions and candidates for European cultural capitals (Aberdeen, Nicosia, etc.) as well as artistic director of the European Capital of Culture Paphos – 2017. He was the tourism ambassador of the Republic of Cyprus focusing on the culture of the Deputy Ministry of Tourism, as well as the goodwill ambassador of the Japanese cultural organization Mandarin Electron.
He has invented the concept of multimedia. in music (2003), which he analyzes in his book "The Concept of Polymediality" (ed. Schott). In it he utilizes non-conventional musical elements, media and art forms as well as technology in the realization of the musical idea. In 2019, he was named the Personality of the Year of the Republic of Cyprus in the Culture category. He also holds the "Spyros Motseniou Award" from the Academy of Athens in the class of Letters and Fine Arts (2022).
Source: KYPE