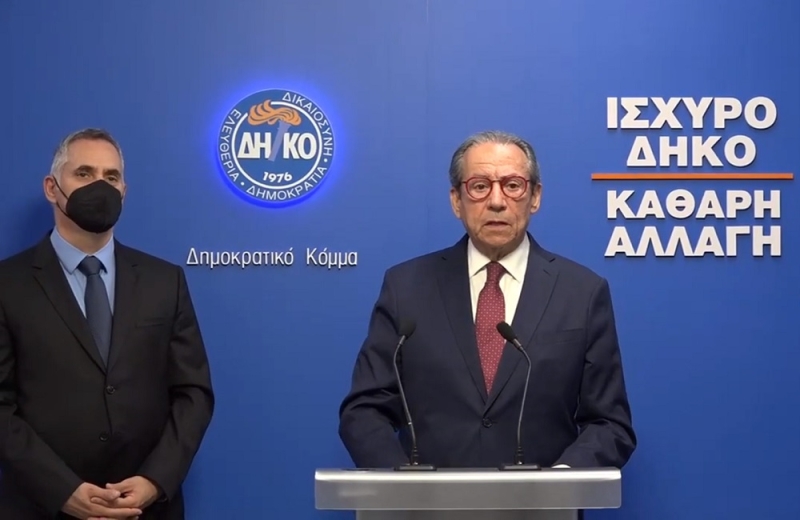 Members of the DIKO Secretariat, headed by the party's President, Nikola Papadopoulos, met today with the independent candidate for the presidency of the Republic, Mario Iliadis. The meeting took place in the context of DIKO's contacts with parties and independent candidates, to explore the possibility of cooperation for the upcoming presidential elections, according to a party announcement.
During the meeting, Marios Iliadis presented the key aspects of the governance program and its policy proposals, the same announcement states. Nikolas Papadopoulos stated that there was a special interest in the issues of economy, social rights as he (the candidate) calls them, education, health, but also job security.
He also said that they discussed how they can deal with, on the one hand, the "bad image that our country has in the field of entanglement and corruption" and on the other hand, the danger of division that now stands before us by returning to negotiations and discussing based on the solution of the Cyprus problem determined by the UN resolutions and by the unanimous decisions of the National Council ".
Finally, Mr. Papadopoulos stated that "it was a very interesting discussion" of those that "only upgrade our democratic and political culture." In closing, he thanked Mario Iliadis and reminded that DIKO has set a timetable for decision-making for the presidential elections, within the next two weeks.
For his part, Marios Iliadis stated that "the upcoming presidential elections are crucial for the future of the Cypriot people as a whole" and that "the quality of governance that we will claim to have from February 2023 will depend on a lot to a large extent the future of Cypriot life and Cypriot society in general ". "In the future, we must definitely move in a way that ensures the well-meaning interests of the Cypriot life and the Cypriot society", added Mr. Iliadis.
Finally, he thanked Mr. Papadopoulos for the meeting and the discussion and expressed the hope that the final decisions "will ensure in the best possible way the future of the Cypriot people as a whole".
Source: KYPE
>