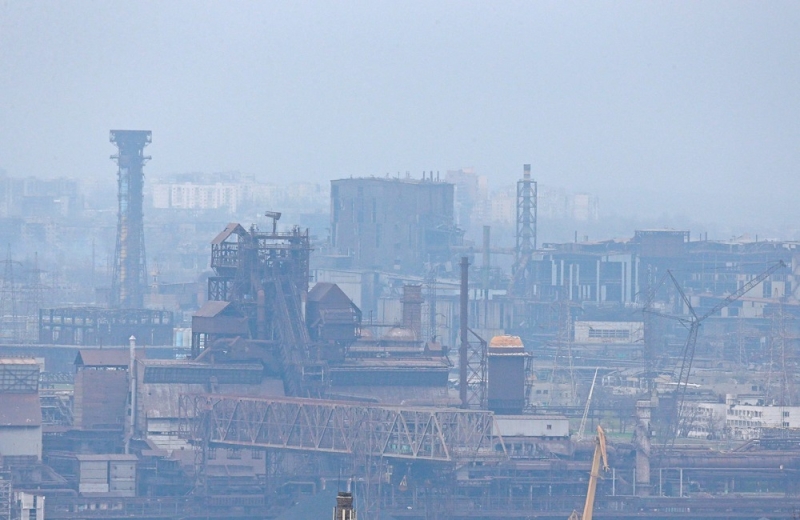 "Let not even a fly pass," was Vladimir Putin's order to Sergei Shoigu about the Azovstal plant after the occupation of Mariupol.
while it is estimated that civilians are also there.
The Putin-Shoigu meeting
At the Kremlin, Putin meets with Defense Minister Shoigu, who says that Mariupol is now "liberated" except for the 2,000+ "nationalists" holed up at the Azovstal iron and steel works. https://t.co/x90qO1mSgl pic.twitter.com/NaV8JCQVib

— Kevin Rothrock (@KevinRothrock) April 21, 2022
What's Putin's decision < Sky News is trying to explain why Vladimir Putin ordered the blockade of Azovstal and not the invasion of Russian troops in the area.
Recall that the Russian president told his minister that he wants to besiege the last Ukrainian warriors who have been fortified at the Azovstal steel plant, because an attack would cost a lot of lives, as this zone consists mainly of an extensive network of underground galleries. "Putin's decision to cancel plans to attack the last stronghold of the resistance in Mariupol means that the Ukrainian city has not completely fallen into Russia, but – unless a miracle happens – it is a matter of time," he said. analyst Deborah Haynes.
The Russian president ordered instead to maintain a blockade around the steel industry, where thousands of Ukrainian fighters and hundreds of civilians have taken refuge, so that not a single "fly" can escape, Haynes recalls.
This marks a tough final resistance for Ukrainian defenders who have endured nearly two months of sustained bombing, though depriving – or at least delaying – the Kremlin of being able to declare that the strategic port city is under Russian control.
The Ukrainian government is trying to ensure safe passage for its people, but there is no indication that it can persuade Russia to let them escape.
May 9 >
The seemingly inevitable fall of Mariupol would mark the most significant occupation of a Ukrainian city since the invasion began, with Russian forces believed to be seeking success before the annual Victory Day on May 9, to celebrate the end of World War II.
However, the occupation of the city, which once had a population of almost half a million, had devastating costs for its inhabitants. More than 20,000 civilians have been killed, many more injured and hundreds of thousands have fled.
Mariupol itself has almost been razed to the ground. About 90% of houses and buildings have been damaged by Russian strikes, while 40% of buildings have been irreparably damaged, Sky News reports.