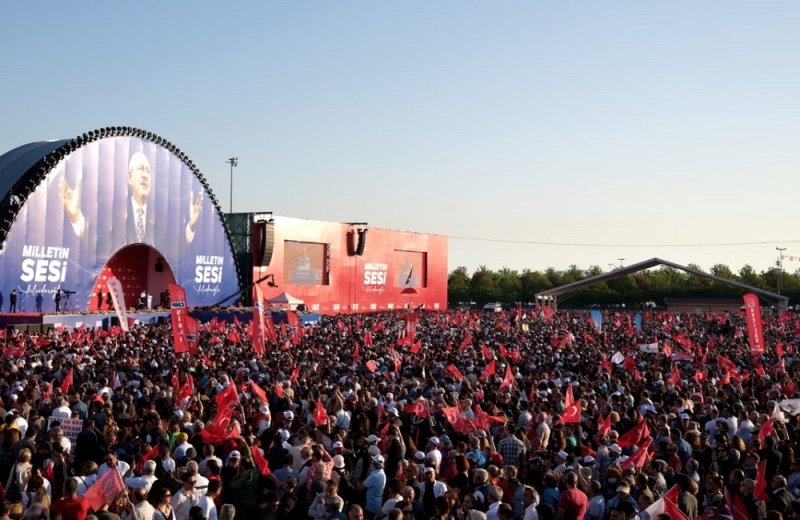 More than half a million people gathered in the Maltepe area on the Asian side of Istanbul to take part in the grand political rally of the main opposition party. The rally, according to party leader Kemal Kilicdarolu, was to hear the Voice of the Nation.
Last night was the second such gathering of the party, the previous one took place in Mersina on December 4, 21, and the second was originally scheduled to take place in Bursa. But the 10-year sentence of Janan Kaftantzioglou, who is the leader of the Republican People's Party in Istanbul, changed the agenda.
The rally took place in Polis, where Katfantzioglou herself, going up to the podium together with the leader Kilitzdaroglou, the mayor of Polis Imamoglou and other executives, essentially stole the show. It is characteristic that while banners and flags other than the party flags were banned, there were banners with the name of Kaftantzgioglou.
and justice and with a clear allusion to President Erdogan said that "Those who started with a wedding ring in hand only today have become the executioner of the nation."
indirectly confirmed yesterday announced that he will be the candidate of the opposition alliance for the presidency. Not everyone agrees that the country with terrible financial problems has now entered the pre-election period.
President Erdogan, at the time of the opposition gathering here in the city, was speaking at the new Stadium in Adana with a youth audience. The millions of young people voting for the first time in the upcoming elections are crucial for the Turkish president.