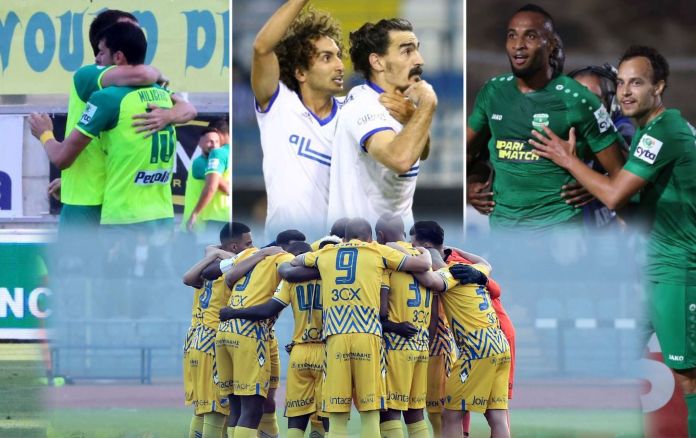 Apollon's victory over APOEL in the top derby put AEK, Aris and Anorthosis mathematically out of contention for the title. Par & # 8217; All in all, the three teams are still hoping for second place in the Champions League.
With the second APOEL remaining after its defeat in Limassol at 51 points and the yellow-greens being at 48, the Limassol at 47 and the "Lady" at 45 with less games, the & # 8230; The battle for the "stars" is by no means over.
Detailed scenarios for the three teams chasing the blue and yellows:
AEK: He is three points away, having to play with Paphos (inside) and Apollo (outside). It lags behind the blue and yellows, so it needs either two wins and APOEL not to get three points (it plays with Anorthosis inside, Paphos outside), or four points and APOEL to make two defeats.
ARIS: He is at -4 from APOEL and from the moment he lags behind in a possible tie behind him, the only scenario that takes him second is to make two victories (Apollon inside, Anorthosis outside), APOEL not to get two points and AEK to have at least one loss.
ANORTHOSI: It is at -6, but it has less game, as it plays on Monday with Paphos (followed by APOEL outside, Aris inside). In fact, it is the only one of the three teams that has the situation in its hands, as by winning all three matches, it will finish second regardless of other results, since it excels both in the tie with APOEL and in a triple with APOEL-AEK. If it gets seven points in the three matches, it will expect APOEL to lose in Paphos and AEK will not win both of its games. In case it makes two wins and one defeat (and of course it will have defeated APOEL) APOEL should be defeated in Paphos, AEK should not get more than three points and Aris should not make two wins.
Paphos gathers mathematical, but not realistic chances, as in addition to winning its three matches it will need a combination & # 8230; of many results.
The rating:
1. Apollon 55
2. APOEL 51
3. AEK 48
4. Aris 47
5. Anorthosis 45 (-1 match)
6. Paphos 43 (-1 fight)
The fights that are pending:
8th match
Anorthosis-Paphos (9/5, 19:00)
9th match
AEK & # 8211; Paphos (14/5, 19:00)
Aris-Apollon (15/5, 19:00)
APOEL-Anorthosis (15/5, 19:00)
10th match
Apollon-AEK
Paphos-APOEL
Anorthosis-Aris