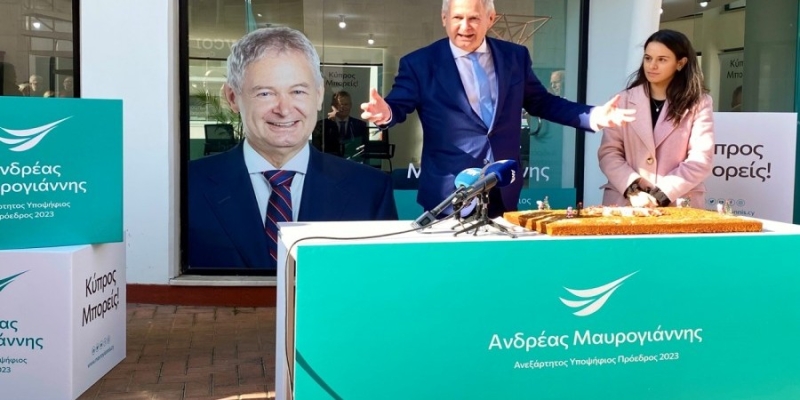 Andreas Mavroyiannis made an appeal, "let's all fight this battle together". "Today the people spoke. "His verdict was clear and honors both me and those who worked for my candidacy," he said.
Flanked by his children, associates and supporters, Mr. Mavroyiannis said that his goal of making it to the second round of the Presidential elections was achieved. He thanked the thousands of his compatriots for their support, trust and the strong mandate to "continue on the same path with ethics and honesty for n' raise our country higher».
He also thanked his partners, the volunteers, AKEL, the organizations, movements and the hundreds of personalities who supported him.
"In this effort we have started, no one is left out. The love for our country removes the dividing lines and unites us. The faith in the solution of the Cyprus problem at the basis of the DDO gives us a punch and motivates us. The commitment to the goal of a healthy, robust economy and concern for the citizens transcends any of our differences, he said.
"Why' this and I look you in the eyes and ask you to fight this battle together", stated Andreas Mavroyiannis. For the imperative today but also for tomorrow, for which he expressed the belief that "it will dawn hopeful for our country and our people".
Asked about this, Mr. Mavroyiannis said that he has not yet contacted any of his opponents, nor has he received a corresponding phone call. He will do it tomorrow morning, he said.
A crowd of people welcomed Andreas Mavroyiannis with slogans such as "Change, change, open check", "All together for change", "Cyprus you can for change», "Forward Andrea, the youth is with you", "Andrea you can, with us too".
Mr. Mavroyiannis is still on his staff and people are still celebrating outside the offices.

See also: LIVE/Presidential: Cyprus goes to the polls to elect a new President of the Republic