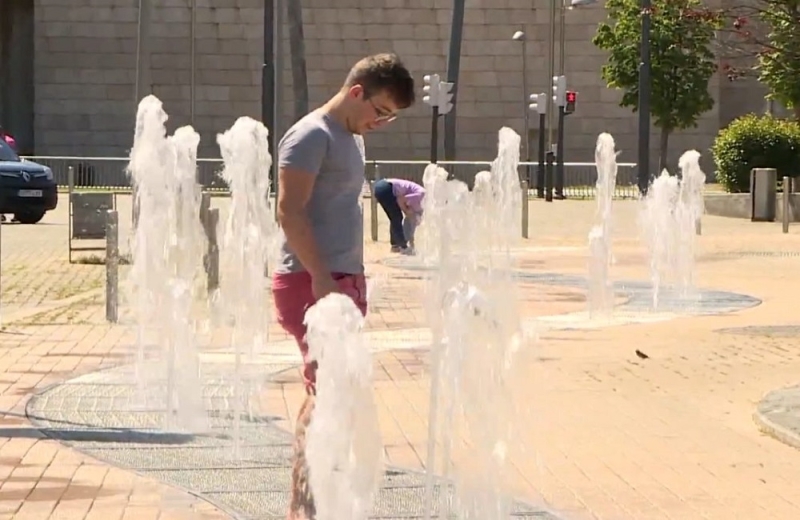 A heat wave hits Spain, as the temperature in places reached even 40 degrees Celsius, breaking every record for the month of May.
Citizens in Spain tried to cool off on Saturday with fans, water bottles and fountain dives, as the country is experiencing unusually high temperatures for the season, which in some areas reached 40 degrees Celsius.
"Early "It was unusually hot this morning in a large part of the central and southern part of the peninsula," the national meteorological service AEMET wrote on Twitter.
The agency warned of high temperatures on Saturday in 10 Spanish regions reaching almost 40 degrees Celsius.
The record temperature for the month of May was broken on Friday in the city of Jaen in Andalusia where the thermometer reached 40 degrees Celsius.
According to AEMET, the average temperature in Jaen was 16 degrees Celsius higher than the temperature usually recorded at this time.
In Seville, the thermometer climbed at 41 degrees Celsius. This is the highest temperature for May since 1950.
Χθες στη Σεβίλλη το θερμόμετρο έφτασε 41.οC (νέο ρεκόρ Μαΐου). Ήταν η υψηλότερη θερμοκρασία για Μάιο από το 1950. Αν δεν υπήρχαν αυξημένες συγκεντρώσεις σκόνης στην ατμόσφαιρα θα ήταν και πιο ψηλά. 34.6οC στο Στρασβούργο.Στη χώρα μας Πέμπτη Παρασκευή 32-35οC, όχι βέβαια καύσωνας pic.twitter.com/h71Uq6jXpj

— giannopoulosmeteo (@giannopoulosmet) May 21, 2022
Sources: ERT, Reuters, ΑΠΕ-ΜΠΕ