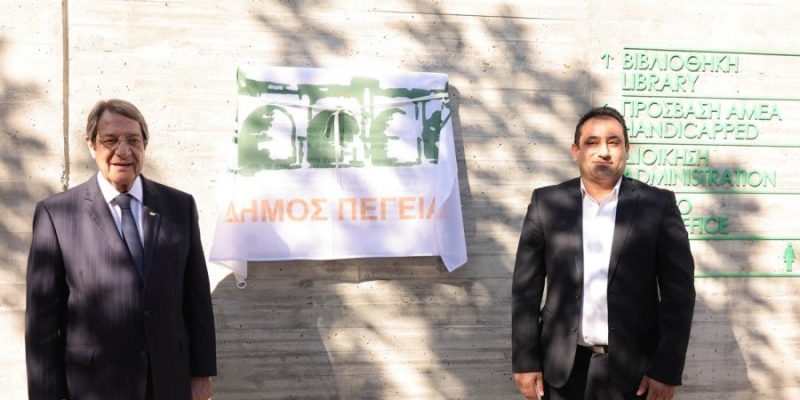 The reacquisition of historical buildings and their utilization in the public interest has been a priority of the Municipality of Peyia since its establishment, said the Mayor of Peyia Marinos Lambrou during the inauguration of the project launched by the President of the Republic and concerning the Restoration/Extension of of an old Primary School and its transformation into a Multipurpose Hall and a Municipal Library in the Municipality of Pegeia.
As he mentioned, the two main buildings of the complex, which have been declared preserved, are emblematic elements, inextricably linked to the history of Peyias, since they concerned the classrooms of the first Primary School of Peyias, which, as evidenced by the carved stone on their facade, were erected in 1926 and functioned as such until the early 1970s.
Subsequently, he continued, they were sold by the then Community Authority to private individuals and had been converted into a cinema/cinema, where films were shown until the mid-1980s, when they closed and fell into disuse and derelict.
From the first years of its establishment, the Municipality of Peyias and basically after its staffing in 1995, said the Mayor of Peyias "set as his priority the reacquisition of these historical buildings and their utilization in the public interest", adding that "so the expropriation and their declaration as a protected property was promoted and implemented.
He also added that the cost of expropriation amounted to 380,000.00 euros and was paid entirely by the Municipality of Peyia.
With the actions of the Municipality of Peyia, through the Provincial Administration of Paphos, their inclusion in the Rural Development Program 2013-2020 was achieved, he continued, and their transformation into a Cultural Center, Municipal Library, and offices was achieved. The two preserved buildings functionally and aesthetically, he emphasized, are complemented by the design and construction of a modern office building, archival material rooms and sanitary facilities.
He also pointed out that the entire project was co-financed by the European Agricultural Fund for Rural Development and was implemented with the Contracting Authority being the Paphos District Administration. He also said that the project was designed by the Consortium of Research Offices of Mr. Loukaidis and Philippou Architects Engineers and George Tsironis and their Associates Civil Engineers, Electrical and Mechanical Engineers.
He added finally that the construction works started around the end of of 2016, by the LakisPapamichaelHoldingLtd. ;1,860,000.00, concluded.
Source: KYPE