POWERED BY:
14:56 Saturday
28 May 2022 INSIDER • GOAL • IN-CYPRUS • PROPERTY • CYPRUS-IS • CAREER LIKE • GOING OUT • XRYSES SYNTAGES • ACTIVE • PHILGROUP NEWS & nbsp; SOCIETY & nbsp; INSIDER & nbsp; OPINIONS & nbsp; GOING OUT & nbsp; CULTURE & nbsp; SPORTS & nbsp; AUTO & nbsp; GOOD LIFE & nbsp; USEFUL & nbsp; PRINTED EDITION & nbsp;
ΑΡΧΙΚΗΕΙΔΗΣΕΙΣΠΟΛΙΤΙΚΗΤΟΠΙΚΑΠΑΡΑΣΚΗΝΙΟMEDIAΕΛΛΑΔΑΚΟΣΜΟΣΕΠΙΣΤΗΜΗΠΡΟΕΔΡΙΚΕΣ 2023ΤΕΧΝΟΛΟΓΙΑΣΥΝΕΝΤΕΥΞΕΙΣΧΡΥΣΕΣ ΕΤΑΙΡΕΙΕΣΚΟΙΝΩΝΙΑΕΙΔΗΣΕΙΣΚΥΠΡΟΣ ΤΟΥ ΧΘΕΣΑΝΑΓΝΩΣΤΗ ΕΧΕΙΣ ΛΟΓΟΕΠΙΣΤΟΛΕΣΣΥΝΕΝΤΕΥΞΕΙΣΔΗΜΟΦΙΛΗ ΣΤΟ INTERNETVIDEOSΑΦΙΕΡΩΜΑΤΑADVERTORIALINSIDERΕΠΙΧΕΙΡΗΣΕΙΣΚΥΠΡΟΣBRAND VOICECAPITALFORBESBLOOMBERG OPINIONΠΡΩΤΑΓΩΝΙΣΤΕΣΚΑΥΤΗ ΓΡΑΜΜΗΧΡΥΣΕΣ ΕΤΑΙΡΕΙΕΣΚΑΡΙΕΡΑΑΠΟΨΕΙΣΑΡΘΡΑ ΣΤΟΝ "Φ"ΠΑΡΕΜΒΑΣΕΙΣ ΣΤΟΝ "Φ"ΤΟ ΜΗΝΥΜΑ ΣΟΥ ΣΚΙΤΣΑΟ ΚΟΣΜΟΣ ΤΟΥ TWITTERGOING OUTTHINGS TO DOCINEMAΜΟΥΣΙΚΗΕΣΤΙΑΤΟΡΙΑBAR/CAFETV ΟΔΗΓΟΣΤΗΛΕΟΡΑΣΗΠΟΛΙΤΙΣΜΟΣΚΥΠΡΟΣΚΟΣΜΟΣΚΡΙΤΙΚΕΣΕΚΔΗΛΩΣΕΙΣΠΡΟΣΩΠΑΑΘΛΗΤΙΚΑΠΟΔΟΣΦΑΙΡΟΜΠΑΣΚΕΤΠΑΡΑΣΚΗΝΙΑΕΛΛΑΔΑΔΙΕΘΝΗΑΛΛΑ ΣΠΟΡΑΠΟΨΕΙΣΣΚΙΤΣΟVIDEOSAUTOΝΕΑΠΑΡΟΥΣΙΑΣΗΑΠΟΣΤΟΛΕΣΑΓΩΝΕΣΚΑΛΗ ΖΩΗΥΓΕΙΑΔΙΑΤΡΟΦΗΕΥ ΖΗΝΑΣΤΡΑΧΡΥΣΕΣ ΣΥΝΤΑΓΕΣΣΥΝΤΑΓΕΣ ΣΕΦΒΗΜΑ ΒΗΜΑΧΡΗΣΙΜΑΦΑΡΜΑΚΕΙΑΓΙΑΤΡΟΙΑΕΡΟΔΡΟΜΙΑΛΙΜΑΝΙΑΤΗΛΕΦΩΝΑΟΠΑΠΚΑΙΡΟΣΣΥΝΑΛΛΑΓΜΑΛΑΧΕΙΑAPPSΠΡΟΣΦΟΡΕΣΕΝΤΥΠΗ ΕΚΔΟΣΗ ΠΟΛΙΤΙΚΗΤΟΠΙΚΑΠΑΡΑΣΚΗΝΙΟMEDIAΕΛΛΑΔΑΚΟΣΜΟΣΕΠΙΣΤΗΜΗΠΡΟΕΔΡΙΚΕΣ 2023ΤΕΧΝΟΛΟΓΙΑΣΥΝΕΝΤΕΥΞΕΙΣΧΡΥΣΕΣ ΕΤΑΙΡΕΙΕΣ ΕΙΔΗΣΕΙΣΚΥΠΡΟΣ ΤΟΥ ΧΘΕΣΑΝΑΓΝΩΣΤΗ ΕΧΕΙΣ ΛΟΓΟΕΠΙΣΤΟΛΕΣΣΥΝΕΝΤΕΥΞΕΙΣΔΗΜΟΦΙΛΗΣΤΟ INTERNETVIDEOSΑΦΙΕΡΩΜΑΤΑADVERTORIAL ΕΠΙΧΕΙΡΗΣΕΙΣΚΥΠΡΟΣBRAND VOICECAPITALFORBESBLOOMBERG OPINIONΠΡΩΤΑΓΩΝΙΣΤΕΣΚΑΥΤΗ ΓΡΑΜΜΗΧΡΥΣΕΣ ΕΤΑΙΡΕΙΕΣΚΑΡΙΕΡΑ ΑΡΘΡΑ ΣΤΟΝ "Φ"ΠΑΡΕΜΒΑΣΕΙΣ ΣΤΟΝ "Φ"ΤΟ ΜΗΝΥΜΑ ΣΟΥ ΣΚΙΤΣΑΟ ΚΟΣΜΟΣ ΤΟΥ TWITTER THINGS TO DOCINEMAΜΟΥΣΙΚΗΕΣΤΙΑΤΟΡΙΑBAR/CAFETV ΟΔΗΓΟΣΤΗΛΕΟΡΑΣΗ ΚΥΠΡΟΣΚΟΣΜΟΣΚΡΙΤΙΚΕΣΕΚΔΗΛΩΣΕΙΣΠΡΟΣΩΠΑ ΠΟΔΟΣΦΑΙΡΟΜΠΑΣΚΕΤΠΑΡΑΣΚΗΝΙΑΕΛΛΑΔΑΔΙΕΘΝΗΑΛΛΑ ΣΠΟΡΑΠΟΨΕΙΣΣΚΙΤΣΟVIDEOS ΝΕΑΠΑΡΟΥΣΙΑΣΗΑΠΟΣΤΟΛΕΣΑΓΩΝΕΣ ΥΓΕΙΑΔΙΑΤΡΟΦΗΕΥ ΖΗΝΑΣΤΡΑΧΡΥΣΕΣ ΣΥΝΤΑΓΕΣΣΥΝΤΑΓΕΣ ΣΕΦΒΗΜΑ ΒΗΜΑ ΦΑΡΜΑΚΕΙΑΓΙΑΤΡΟΙΑΕΡΟΔΡΟΜΙΑΛΙΜΑΝΙΑΤΗΛΕΦΩΝΑΟΠΑΠΚΑΙΡΟΣΣΥΝΑΛΛΑΓΜΑΛΑΧΕΙΑAPPSΠΡΟΣΦΟΡΕΣ ΕΠΙΧΕΙΡΗΣΕΙΣ ΚΥΠΡΟΣ BRAND VOICE CAPITAL FORBES BLOOMBERG OPINION ΠΡΩΤΑΓΩΝΙΣΤΕΣ ΚΑΥΤΗ GOLDEN GOLDEN COMPANIES CAREER
EXCLUSIVE COOPERATION
TOGETHER WITH
Powered by
Writes Dr. Achilleas Karagiannis, Lecturer in Human Resource Management and Sustainability, Aston University, Birmingham, England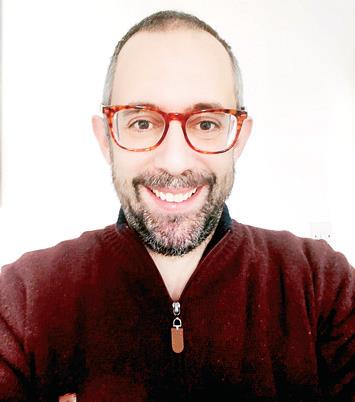 From the academic year 2018-2019, I have the good fortune to teach the courses "Strategic Business Sustainability " & nbsp; and "Corporate Social Responsibility ( CSR ), Sustainable Development and < Public Policy in postgraduate programs at Aston University in Birmingham, England. Our topic today? S ustainability !
Recently, I received as a gift an amazing book entitled "Encouraging Sustainable Behavior: Psychology and the Environment "by Hans van Trijp.
A specific chapter of the book is of particular interest in trying to understand exactly what "Sustainability" means in theory and in practice for each of us. The chapter is entitled "The Psychology of Sustainability: Attitudes, Identities, Actions and engaging with the Welfare of others".
In 1987, the United Nations embodied Sustainability as a concept with evolutionary and future significance: "the development of Sustainability meets the needs of the present without compromising the needs of the future." In other words, while we see the obvious, that is, that a future without the present can not exist, we also see a gap as to who it is addressed to and for whom Sustainability should matter. The answer; To all of us!
THERE IS A CRISIS BUT…
In The Psychology of Sustainability, van Trijp refers to the West and the fact that, in his view, there is a crisis — neither economic nor environmental, as most of us may think of Sustainability. There is an existential crisis, a crisis in the mind, a crisis in terms of the stories we tell to ourselves, but also to other people. Can our existential crisis be nurtured through a renewed and very personal relationship with the environment with which Sustainability is almost identical?
THERAPEUTIC INFLUENCE?
About two months ago, as part of the "Strategic Business Sustainability" course, a student asked me to see him in person in my office, instead of using the most traditional method of the covid-19 era, Ms Teams. He wanted us to discuss the work that the children had to do in this particular lesson. Among other things, Nick referred to his views on the course and the therapeutic effect the course had on him. I was surprised. Therapeutic effect? this was a comment I first heard in the 16 years I have been teaching. When I asked him what exactly he meant by "therapeutic influence", Nick replied "it made me reconsider my relationship with myself".
I could never have imagined that one of my courses could have such an impact on a student, but that's not the point. The point is to explore and expand the relationship that Sustainability/environment has and can have with us, but also through us, our relationships and other people.
I asked Nick to send me an email and capture my thoughts in as specific a way as I can. Following are excerpts from the English translation:
"I began to realize that the relationship between the course (Strategic Business Sustainability) and treatment begins with the question of who I really am. As part of the process of (re) loving myself, I began to understand and appreciate the ways in which my family returns to the planet through their actions to replenish the soil they use. Our relationship with the planet must be reciprocal. The way we have perceived Sustainability so far has been somewhat absolute: economy and money. But in doing so, we completely lose the true meaning of Sustainability. When I started this process of reconnection, I felt a real euphoria – a resurrection, a whole new experience, a restart of the mind starting from scratch. "
Perhaps, indeed, Sustainability is much more than a relationship with economic parameters. It can be much more than the effects of the human factor on the environment. Van Trijp reminds me of Nick, especially where he challenges us to redefine our values ​​and re-examine the presence of (according to Goffman) our social identity. This identity is in relation to other people, with structures much deeper than the friendly and/or purely professional ones.
WHAT IS FINAL?
Maybe, at the end of the day, Sustainability is not just how I perceive Sustainability or how you perceive Sustainability, but how we really delineate our relationship with the environment, but also more broadly with the society and humanity that gives us surrounds. We have seen it many times in the daily life of Cyprus – drivers open the window and throw the cigarette butt in the street. The act as an act is reprehensible, but much more problematic is the fact that: Either they throw the cigarette butt without caring if they see another person, or they throw it even if they make sure that no one sees them. It does not matter so much who sees us and if someone sees us, as it does that in both cases we see ourselves. Finally Sustainability, is it me, you or us?
From Insider Magazine (May)