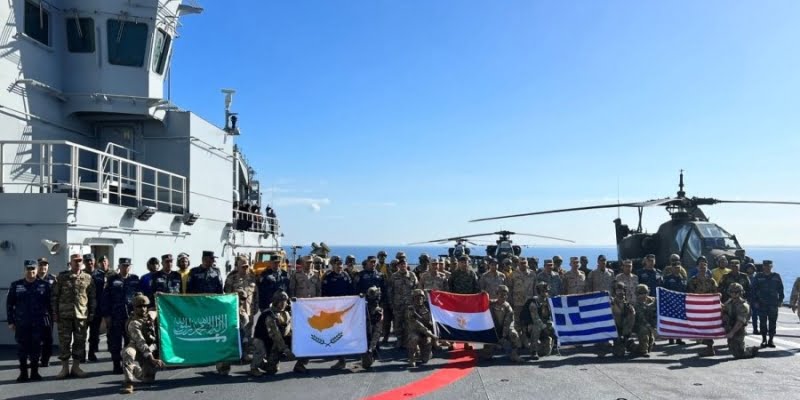 The participation of the National Guard in this year's MEDUSA exercise, which was the largest deployment of personnel and means in an exercise abroad, contributes significantly to the increase of the operational capabilities of the participating states and confirms the excellent relationship and a high level of military cooperation has been developed between the National Guard and the Armed Forces of these states, it is stated in a statement by the Greek Defense Ministry.
In addition, it is added, it reflects the wide network of partnerships developed by the National Guard in accordance with the directions of the Ministry of Defense, actively contributing to the common pursuit of ensuring security and stability in the wider region of the Southern Mediterranean.
According to the announcement, from November 19 to 25, 2022, the multinational aeronautical exercise "MEDOUSA-12/2022" will take place in the sea area of ​​Alexandria, with the participation of aeronautical media and Special Operations Departments from Greece, Egypt, the Republic of Cyprus and Saudi Arabia while France, Germany, Romania, United Arab Emirates, Jordan, Morocco, Bahrain and Congo participated with observers. The National Guard participates with PGY ALASIA and the Navy Command's Underwater Disaster Team, an Air Force Command AW-139 E/P and a Commando Command Special Operations Team
On Wednesday, November 23, the final phase of the exercise was conducted simultaneously with the Distinguished Visitors Day, which took place aboard the helicopter carrier GAMAL ABDEL NASSER, of the Egyptian Navy in the presence of the Chief of Defense Forces of Egypt, Lt. Gen. Osama Roshdy Askar, the Chief of the National Guard, Lt. Gen. Demokritos Zervakis, the Chief of the GETHA General Constantinos Floros and the Chief of the Saudi Arabian Navy, Gen. Fayyad Bin Hamed Al -Ruwaili
During the final phase, operational scenarios were executed which included static belt jumps and parachutists' free fall from E/V, reconnaissance and boarding a warship, combined landing action on the coast of "El Omayed" as well as virtual airstrikes by attack helicopters and fighter jets.
The final phase was completed with the passage and awarding of a salute by the aeronautical units to the honored persons. The Head of the EF in his short greeting to the distinguished guests after expressing his warm congratulations both to the multinational Staff that led the exercise and to the staff of the countries that participated for the perfect organization and execution of it, pointed out the importance of international cooperation including military exercises to improve mutual understanding and interoperability of the EDs at the operational level, but also more broadly at the strategic level, in maintaining peace and security in the sensitive area of ​​the Southern Mediterranean.
Source: KYPE