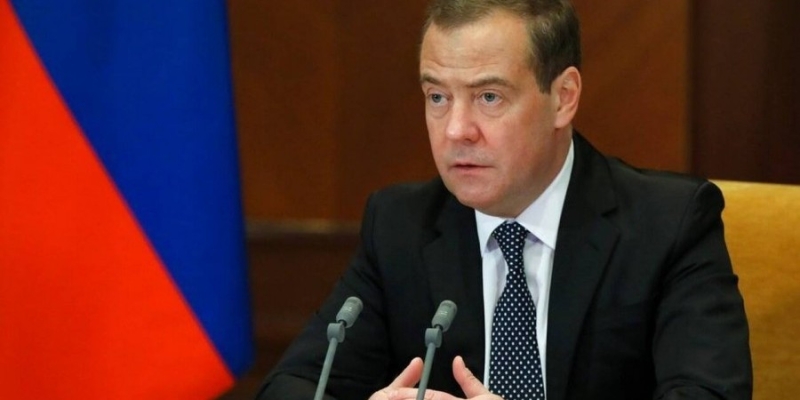 "Britain was, is and will be our eternal enemy", commented the vice president of the Russian Security Council Dmitry Medvedev, referring to the imposition by London of sanctions against five natural persons, who participated in the prosecution and sentencing to 25 years imprisonment for high treason of the politician Vladimir Kara-Murza, who is described in Russia as a "foreign agent".
And this will happen, he asserted in the aggressive and threatening way that the once liberal and pro-Western politician has chosen to express himself in the last year, "at least until their insolent and disgustingly wet island is dragged into the abyss of the sea by the wave, which Russia's state-of-the-art weapon system will cause. Let it be, as the Beatles sang…».
The former prime minister and president of Russia, who has repeatedly demonstrated his loyalty and support to its president Vladimir Putin, quipped that "the British's belief in their own exceptionalism is grandiose".
"It is not even about the specific "case", but about their sacred belief that [s.s. sanctions] is a terrible punishment and that Russian officials will be hysterical because of it. It is, after all, obvious that the clash of antiquated form (the degenerate British monarchy) and mock content (look at the faces of their recent prime ministers <…>) creates some very strange bugs,» wrote the vice president of the Russian SA on his Telegram account, concluding that British sanctions are completely indifferent to Russia.
But the former president of Russia did not limit himself to criticizing Britain, but also attacked German Defense Minister Boris Pistorius, who earlier had called "absolutely normal" for the Ukrainian armed forces to conduct operations on Russian territory if they are aimed at cutting off supply routes for Russian troops without harming civilians.
"The Germans who want to attack Russia should be ready for our parade in Berlin», that is when B' World War, warned Dmitry Medvedev threateningly, who wrote on his Twitter account, that Boris Pistorius is "envious of the glory of the warlords of the Third Reich".
Source: KYPE