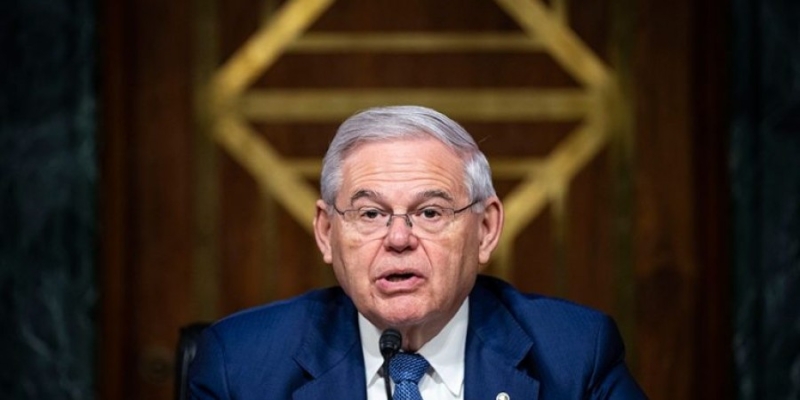 In his intervention on the show "Big Picture" Senator Robert Menendez, speaking to Niki Lymberakis, emphasized that it is not acceptable for the State Department to call on both sides to tone down or find a peaceful way to resolve their differences when it is the one and only one side that is attacking.
Senator Bob Menendez, in his intervention on the show, estimated that Erdogan's rhetoric of hatred and threats towards Greece are due to the internal problems he is facing, but he emphasized that the US should take them into account and consider how to react to the risk that is created problem and not just rhetoric.
He explained that it is wrong for the State Department and NATO to maintain an equal distance policy between Greece and Turkey and to ask both to tone down and reconcile while only Turkey is the aggressor.
He makes it clear that he will block the sale of F-16s to Turkey at this time and explains that the sale can be released "if and only if Turkey abandons its aggressive stance against both the Hellenic Republic and Cyprus, as well as other actions in Eastern Mediterranean that are against our national interests and our national security.
Mr. Menendez believes that the US should stand by Greece if it is attacked – something he doesn't consider possible – as "efforts are being made to ensure that this moment never comes because it is in no one's best interest for it to come and I don't think Turkey has the leverage it once had in the entire US Congress".
The entire Menendez intervention
QUESTION: What will happen to the sale of F-16s to Turkey
Menendez: Regarding f16s, I would like Turkey to be different from' whatever is under the leadership of President Erdogan. To be a reliable ally in NATO, to follow international rules, not to be aggressive towards its neighbors, not to arrest and imprison journalists and lawyers. Don't suddenly declare one of your main political opponents guilty, to disqualify him from the election and more. So, in that context, I'm against the sale of the F16s, because at the end of the day the reality is that we haven't seen Erdogan's Turkey live up to those expectations.
What we have seen is a Turkey threatening another NATO member country, the Hellenic Republic and threatening it without justification, without cause. So in my mind it would be problematic to sell military hardware when it takes such actions and when it clearly manifests some of its intentions over and over again. Perhaps the Biden administration will use my stance on the sale as leverage to get Turkey to behave differently, and if that happens, so be it, it could be a positive development. But right now I intend to continue to do what I've said I'm going to do, which is to not approve the sale. Accordingly, I will not proceed with approving the sale at this time.
QUESTION: But even if the Biden administration uses your stance to pressure Turkey, even if Turkey agrees to stop the threats against Greece, how could you ensure that it respects and honors this commitment even after the sale?
Menendez: Yes, of course it's not just words. Actions would also be required and we need to think about what are the conditions that would apply and the actions that would be required on the part of Turkey to ensure that the Turkish government takes responsibility to implement its obligations in such a sale. We're nowhere near that right now. We may get to this point if and only if Turkey abandons its aggressive stance against both the Hellenic Republic and Cyprus, and other actions in the Eastern Mediterranean that are contrary to our national interests and national security.
QUESTION: Senate, whenever the State Department is called upon to take a position on threats against Greece, the response in recent years has been roughly the same: "The United States encourages the two allies to resolve their differences through dialogue. on the basis of international law".
Read also: NATO: Wagging the finger at Turkey-«Don't prevent Sweden from joining»
Source: Vima