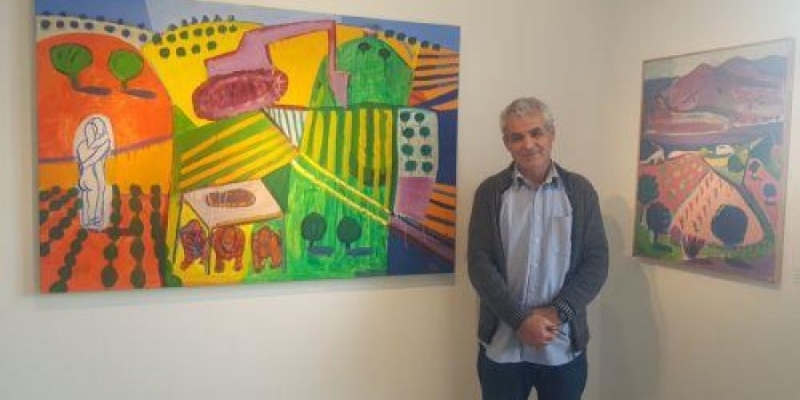 Landscapes with very vivid colors present in either sections of his latest exhibition, the visual artist Rinos Stefanis, sending messages of optimism and joy. Stefanis presents his work at the Blue Iris Gallery in Paphos under the title "Two Ways to Paint a Utopia" and landscapes are a subject rarely presented by the artist.
Stefani, who represented Cyprus at the Beijing International Art Biennale in 2005, 2008 and 2010 and has taken part in many international exhibitions, said, speaking to KYPE, that art is a form of communication and he himself is happy when someone acquires the work of.
Asked about the effect that traveling had on his work, he noted that his stay in England and Spain during his studies helped him realize the difference between northern European art and Mediterranean art. This, he said, helped him in his work.
"He who truly loves art must first learn its basic principles, its vocabulary and philosophy, and then seek his own style and writing" he said.
He started painting at an early age, when his teacher was excited by his drawings, while he remembers his first drawing, a landscape of Tala, his village.
Regarding culture in Cyprus, he says that the state has never been seriously interested in Art, adding that "we often talk about ancient culture and don't look at modern culture. This means that we don't even understand ancient civilization.
Why&rsquo? this world is far from art, he says, but he sees that there are young people who have become interested in art "and this is hopeful".
Rinos Stefani was a member of the team that worked on the nomination file of Paphos for the European Capital of Culture 2017. When Paphos won the title of PPE 2017 Stefani organized the group exhibition On Target at the Municipal Art Gallery of Paphos and participated in the Eco Art project . She said, the cultural dynamics that existed in 2017, suddenly disappeared on December 31, 2017.
The opening of the exhibition was done by Art Historian/Academician and former Deputy Minister of Culture, Dr. Yannis Toumazis, who among other things mentioned that the artist "never compromised with the trivialities of the times, but remained a faithful servant of his vision for decades".
Rinos Stefanis was from the beginning "a creator with antennas and horizons wide open, with a deep social and political consciousness" , said Mr. Toumazis. His work, he continued, exudes his deep love for man.
The landscapes of this Rhine exhibition, continued Mr. Toumazis, "on the one hand present an almost idyllic image of nature, with clear colors, almost like aerial 3D maps of a carefree island. Phew, things are not like that, appearances are deceiving. These landscapes are dangerous. It is not a utopia, it is rather a sequence of u-scapes, of non-scapes where within the colorful natural arrangement man intervenes.
Niki Loizidis, Emeritus Professor of Art History at the Athens School of Fine Arts says that it is impossible to talk about the works of Rinos Stefanis without referring to the "deep, violent and at the same time lyrical eroticism that characterizes them".
The exhibition of Rinos Stefanis will last until the end of March.
p>
Source: KYPE