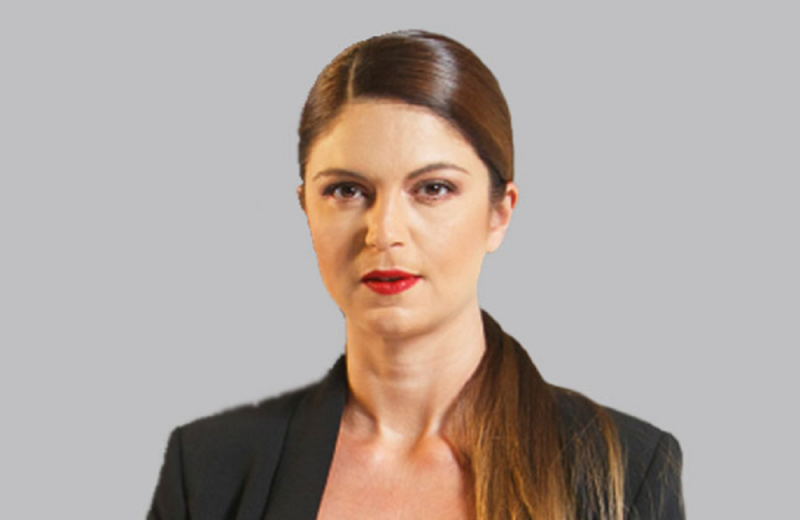 The case of sexual harassment is reported through the website goingmadpress.com and its personal blog by the well-known journalist and presenter Marina Hatzikosta. Specifically, an incident is narrated between her when she was 23 years old and a 65-year-old powerful man, who, as she points out, had absolute power in society, in politics, in justice and in whether she would have a salary.
The journalist decided, as she says, to make the beginning and speak openly about sexual harassment and harassment in general in the field of journalism.
Read everything that Marina Hatzikosta wrote and complained about:
For a whole week I have been trying to convince myself that the column called #StayPawsitive can not be offered to talk about sexual and other harassment. I finally convinced myself that it was offered. For two reasons. What is the point of having my own blog if I can not tell my own truth. Secondly because there is something positive. The fact that now all of us can talk and especially those who are not dependent on the media for a living. The right men are our strength on this journey. Some are victims. So I will talk to you openly about sexual harassment, about harassment in journalism in general. For the record. This principle must be made someday. Let's do it together.
Decades ago. My cell phone is ringing. Reply.
– Hatzikosta, be in my office tomorrow at nine.
I went. I was not alone. There were witnesses!
– We will do very well. I am very happy with your work. You have a flame.
– Thank you very much.
– I can offer you much more. Do you want to sit at my desk? To see the world from this side?
– No thanks.
– We will find them. I'm sure. You are very smart.
By and large I left and went to my office running and panicking. I shared the fact with two colleagues. Men. Old caravans of the area that had won my trust. At noon we had the Christmas party on the TV station. He is approaching me.
– Do you know that book?
– No.
– I like books that bother my mind.
– Difficult readings are for smart minds!
– When something is difficult in my mind, it causes me the feeling of orgasm. You, for example, make my mind difficult.
– Do not continue.
– I want to make you orgasm.
– Stop now. Not interested.
– Let's try platonic. I'm sure we will find them.
I was only 23 years old. He was 65. Strong. Almighty. He had absolute power in society, in politics, in justice and of course in whether I would have a salary. Of course he had the upper hand in whether I will find a job again, because you see the system is forgetting the whole and I was in the first steps of my career. I was convinced that I had to spit blood on journalism. I had a very small mind, said the managers… who elegantly advised me not to proceed with a complaint and that if I did not respond I would just stop dealing. As I did. If I regretted it? Yes. Because he stopped when he found a new game.
Since then and for the next 10 years as a journalist I had to stop every senior editor, every powerful director, every politician who thinks he is the system itself, not that he has to serve it, and no one can touch him! To stop them from insults, from devaluation, from bad behavior… from harassment and threats. You see, passionate journalists can defend the truth of everyone, stand tall for every victim, for every citizen, for every child, for every woman, for every man, for everyone who needs mass support… outside… of themselves . In these ten years, however, I grew up, became stronger, stood on my own two feet and managed to stand next to other girls, scared, in despair.
Give up say various in general discussions.
Every time I read a quit on Social Media I get a relapse… And if I quit with what money will I eat? How will I feed and dress my child. How do I pay the rent, the bills…
– You can not change the system.
– I will not know if I do not try. After all, I do not want to be part of such a system.
Discussion in a drafting room. Me and the producer. Our voices are covered by the loud voices of the director who for the umpteenth time in the day humiliates every human dignity of the human resources of the news. Inhumane conditions. My mind travels when I knock on the door to one of the directors's office.
– You know, there is a person in the pension room who sees bags and they… do you understand?
– You are not serious.
– There is an issue. General but also special. There are panicked colleagues, but they are afraid to talk to you. I can not stay idle. He has also resorted to harassment. I can not tell you names, because they are afraid. But I will tell you that they call me to their offices when they receive harassment, so that someone can interrupt. Scared. And it's emetic yes, but those who are not afraid are trolling!
– We will solve this. Thank you for talking to me.
I left news journalism, but this person did not. He was reprimanded, I learned. So do you understand? After all, how will you prosecute an abusive or corrupt or perverted person, when there are stitches for your own fur? When you use your power against others?
My mind now turns to another editorial room. Here they have us unpaid and they call us because we ask when we will be paid. The TV station has just opened and the money, we know, is flowing abundantly. I call Adriana (to be precise she is a pseudonym for a real person which I can not say due to recognizability) and I talk to her about that then. Years ago. The first issue in the bulletin is the #Metoo complaints in the field of sports.
-Is it time?
-Every day I have that in my mind… But we are not ready to talk about journalism.
– Anyway, I am. For what I lived and what I saw.
-Everyone will say: put them on.
-Do we become complicit? Do you remember what he said? That will c @ m! Σ3! all σαι Do you remember what he did?
One by one the cases where I saw colleagues, women and men, humiliated by the directors of the editorial office pass through my mind. One by one I saw cases of them touching, ostentatiously caressing their genitals, speaking vulgarly, threatening, bullying, undressing with their eyes and licking each other. All this so normal… as if it were self-evident!
Every tear I wiped, mine and yours, has remained in my heart. Every attempt to speak fell on deaf ears. I was sick. Put @ n3s all, my mind repeats the phrase !!! Let's see how many beds he went through to make a career!
How many times have you heard this expression? How many times have you thought about it? How many times did you blow it without having the slightest idea how many waves this girl went through, me, this boy, someone's child… to prove his worth, to get what he deserves, without starving. Without being left homeless. Do you really have an idea about the fight he is giving? Do you have any idea how many and how many times he made his pillow soak with tears? Without being able to speak, because you see, not everyone has backs! Do you have any idea how many thousands of pieces its directors broke every day? Have you ever wondered how many and how many times she had to defend herself, just because she is a woman, or because she is young or because she is gay, in this fragile system? Do you have any idea how many times he stood in front of his younger colleagues to protect them? That she may not have had a voice in her own right, but raised her voice and boyhood and stature when she did, to protect your own children? Someone's children? Κάποι
Indeed, society is not ready to hear, to testify, the abuses in the editorial offices, the attacks on journalism. Because it is much more convenient for her society to consider that I went through beds to make a career, than to decapitate the faces of dirt and stench. It is much easier for her society to gossip about a journalist or presenter, find them and advertise them on Social Media, than to defend them and take on their own responsibilities.
So I will talk to you again about abuse in journalism… because now you are not ready.
My love
Marina Chatzikosta