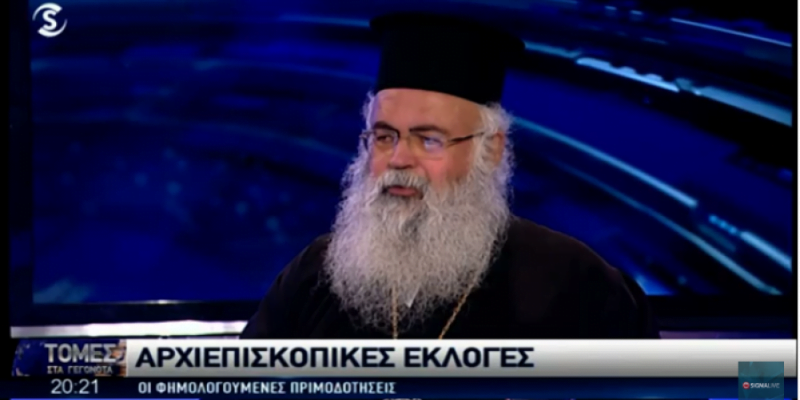 Tomes ta Gegonota hosted the Guardian of the Archbishopric throne, Metropolitan George of Paphos, who spoke about Sunday's elections, but also about the possibility of bonuses.
He initially stated that the people have matured and the candidates. "When some information came that supporters of candidates wanted to raise various issues, we tried to defuse the atmosphere. We don't need to trigger situations that the next day we will find in front of us. He added that the next day one will be elected Archbishop and the others will help him so that they can co-rule the Church together.
He also mentioned that if the people understand that they have a great right then they should use it. "The Ecumenical Synods give the right to the Bishops. Our Church has kept a tradition that wants the people to mingle.
He added that there are 6 candidates and the people have the right to choose the three. "I have said that the participation of the people could become indirect with the elections of the Church Committees. It would be an incentive for them to take an interest in the commons of the Church. He pointed out that this way tensions would also be avoided. "The same for the Archdiocesan. The Commissioners would be the representatives of the people.
Asked about the possibility of bonuses, he said that the bonus is not illegal but an immoral and anti-church event. "When they are cut for the good of the people, how will we alter it? When they will urge their own people to vote based on goals and at the expense of some others. He clarified that this will lead to a reaction from the Synod. "Those who just want to send him as an expiatory victim and he will be chosen by the Synod. I call for it to be avoided, we are giving the wrong message to the people.
The Metropolitan of Paphos explained that the statute was made with a philosophy. "The criteria of the people are different and those of the Synod. The Synod will cooperate with the new Archbishop the next day».
Finally, he mentioned that on Sunday each Bishop will tell in his sermon about the great event of Christ's incarnation. "It will say we have placed our mark in front of you, choose whoever you want".