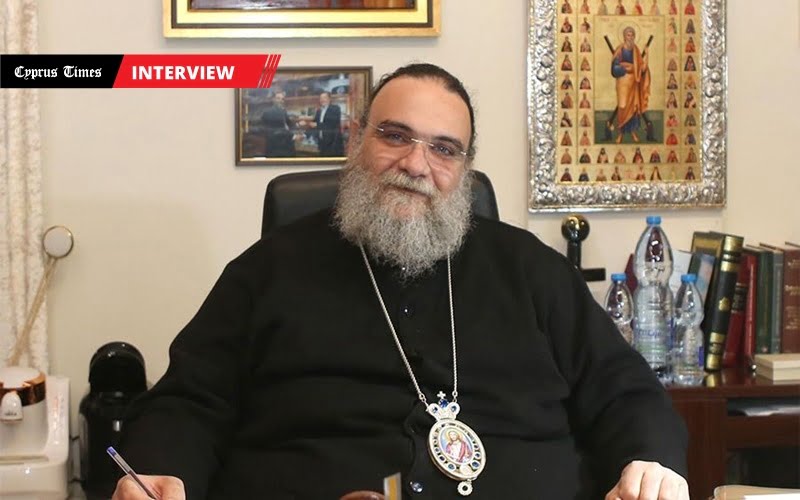 The Church with its tragic mistakes and passions has been discredited, says, among other things, in an interview with the Cyprus Times, one week before the big election process for the election of the Triperson, the Metropolitan of Tamasos and Orini, Mr. Isaias Kykkotis – He develops his vision if the next day finds him on the archbishop's throne, comments on relations with Russia and what is said about' him, the polls and the background – "Those Bishops who do not take into account the people's vote at all, will be discredited by the people and will be stigmatized, due to self-interested and not socially beneficial behavior" he says
Download the CYPRUS TIMES APP! HERE for Android and HERE for iOS
Get ready, time is counting down to the December 18 election process, which will highlight the Tri-Face. From your meetings and contacts all this time with the faithful, what have you realized? What is it that they are asking from the new Archbishop and what hopes do they place in the next church leader of the place?
The Church, with its tragic mistakes and passions, has been largely discredited in the eyes of Cypriot citizens. Believers are asking for a new, honest man, who, on the one hand, has deep faith and, on the other hand, can correctly translate the attitudes of modern society, offering people love and practical modern solutions. Today's society wants an Archbishop with new ideas and education, who can worthily represent us abroad and in international organizations, who knows other cultures, who loves dialogue, even with people and institutions outside the Church, who does not he is afraid of the different and the new and, with appetite and method, to take initiatives in all areas, which concern the well-being and progress of people.
There are quite a few who mention your age, you are the youngest among the candidates for the archbishop's throne. Do you think this fact will work in your favor?
In two days I will be 52 years old, 32 years a clergyman, of which 15 as a Metropolitan. When you are young, you have the appetite, the vision, the plan and the fitness to make something, which, God willing, will last, you will check it and fix it. Therefore, in this way, you will offer a long-term contribution to the place, if God allows it. So, if our brothers want to see actions done for the good of the world and the Church, they should take into account the age and the proposed program we have. I would not like in the Church of Cyprus to experience phenomena of age racism, neither for the young nor for the elderly. What matters is what each person can offer and how they intend to do it. We were filled with expedient fireworks, for works, that is, made for advertising and photography in the newspaper and serving other interests.