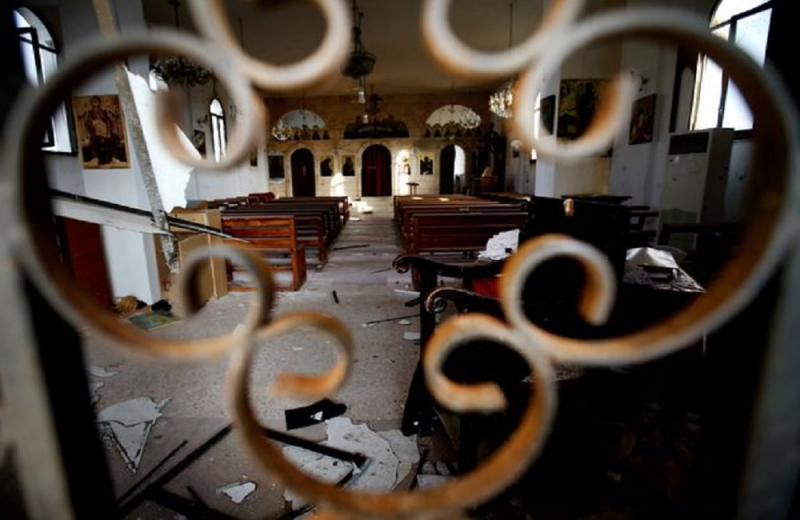 Michel Boutros is a 90-year-old Christian in Idlib, Syria. In fact, he is the last Christian to remain in the stronghold of the rebel stronghold of Bashar al-Assad for many years. And of course a member of a religious minority that is declining in number during the bloodshed of the country in which the war has been raging for about 10 years.
His presence is a constant in Idlib and everyone knows who he is.
According to Al Monitor, he was born in 1931 and can hardly read the Bible. The walls of his house are decorated with crosses and Christian religious icons in a city without Christians.
"I have no children, I'm not even married," Boutros said.
As he says, "My family is from the city of Idlib. My family and I lived here in this house, which became part of myself, and I will not leave it, no matter what. "My brothers moved to live in Aleppo while my father, his wife and I chose to stay."
His mother had three boys and a girl, but "unfortunately I never met her, as she died when I was a baby and my aunt, my stepmother, was the one who raised me."
The years passed and "My father married another woman… who gave birth to two sons. "Then he died, and a little later the aunt who raised me died."
The old man has not left his hometown even once in the last 10 years that the war is raging.
"We have witnessed fighting and all kinds of disasters, but we did not leave Idlib during the clashes between the Syrian regime and the opposition in the city in 2015. I stayed here in this house, and I was very happy, relaxed and calm. of the conditions. At that time, my neighborhood was approx
"Surrounded by cluster bombs, rockets and weapons, but I never left."
"I can do it and I can do it. "Let 's be clear: I do not live a fancy life, but I can cook a meal and take a shower on my own."
His house has no electricity because it is very expensive, but he says it 's better without it. I use kerosene oil in my home for lighting, and that's all I need. I thank the Lord for that. The Lord takes care of me while I am here in my house ".
Boutros does not believe that Idlib will ever become what it was before the war.
"The current situation in which we live will continue and the damage can not be undone… But we thank the Lord for everything and we are sure that he will take care of us. The Lord is our father and our brother, and he manages the affairs of all in this war. "
In the city, as he says, there are good and bad people and "since I only hang out with good people, I am surrounded by those who treat me well and love me. And if I need something, they share their food and drink and offer their help. They are not stingy with me at all, especially Muslims. "I was never disappointed."
Churches in Idlib are closed because there are no more Christians to go to. "I personally pray here at home," says Boutros.
According to unofficial local statistics, about 10,000 Christians lived in Idlib province, but their numbers began to decline in 2012. Most Idlib residents left in 2015 after the opposition recaptured the city.
The number of Christians in Idlib province has continued to decline and now accounts for less than 1% of its population. There are still about 200 Christians scattered throughout the government, with an average age of 70 years, while there are only 10 aged between 20 and 40 years.
huffingtonpost.gr