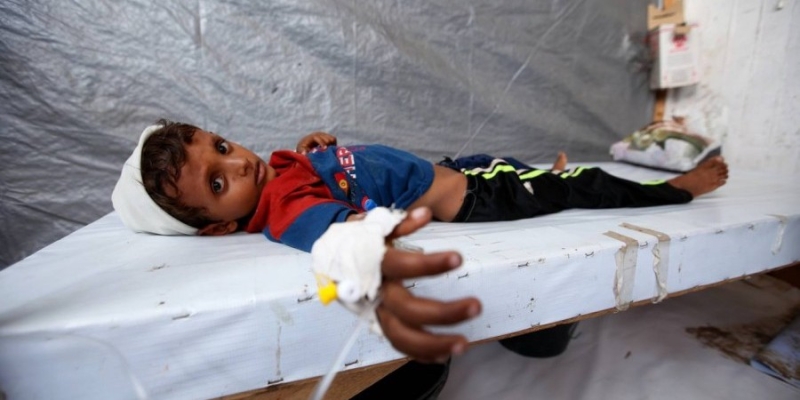 Millions of children are at risk of acute malnutrition in Yemen unless funds are urgently made available to help the war-torn country, where a child dies every ten minutes, UNICEF warned today.
< p>Among the 11 million children in need of humanitarian assistance in Yemen, and the 2.2 million who suffer from malnutrition, "more than 540,000 children under the age of five suffer from extreme acute malnutrition, potentially fatal,", he emphasizes in a press release publicizing the United Nations Children's Fund.
And "a child dies on average every ten minutes from preventable causes".
UNICEF says it needs $484 million "urgently" in 2023 to continue its action in the poorest country on the Arabian Peninsula, where civil war has been raging since 2014.
"If urgent action is not taken, millions of children will face a higher risk of malnutrition," he warns.
«If it does not receive these funds, UNICEF may be forced to reduce its vital aid to vulnerable children,», he insists.
In late February, donor countries pledged $1.2 billion for Yemen's population, much to the dismay of aid groups, which had appealed for more than $4 billion.
According to the United Nations , over 21.7 million people — or in other words two-thirds of Yemen's population— they will need humanitarian aid this year.
The war in Yemen broke out in 2014. In September of that year, the Iran-aligned Shiite Houthi rebels entered the capital Sanaa. Their rapid advance led to the March 2015 intervention of neighboring Saudi Arabia, which led a military coalition that supported the internationally recognized government's troops.
The war has claimed hundreds of thousands of lives, immediately or indirectly, and uprooted millions more.
More than 11,000 children were killed or maimed from 2015 to 2022, according to UNICEF.
The UN and humanitarian organizations, facing a shortage funding, are increasingly warning against the risk of large-scale famine in Yemen.
A UN-brokered ceasefire that came into effect in April 2022 has de-escalated hostilities. Although it expired in October after the parties failed to reach an agreement to renew it, the fighting has not become widespread so far, remaining sporadic.
Also read: France on fire over pension: Clashes with the police (vids)