Everything we mentioned during the election campaign we will implement and it is our contract with the Cypriot people, declared the elected President of the Republic, Nikos Christodoulidis, stating that he is "optimistic that we can reach the formation of a government of broad social acceptance" .
He was speaking at his headquarters in Larnaca, which he visited on Tuesday night to thank all the volunteers who worked for his election, and where his supporters greeted him with applause and slogans. He expressed the hope that he would soon have specific results and specific names to announce, noting that the announcements will be made closer to the date of March 1.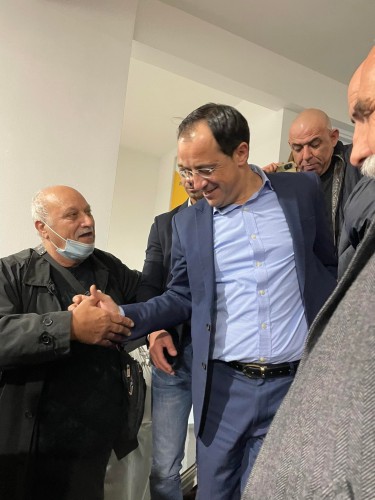 Mr. Christodoulidis also said that "the dialogue we have had all this time will continue during our administration, because this dialogue alone has something to offer to us and to society".
< p> See also: Christodoulidis distributed roses in Larnaca (pic)
When asked by a journalist if among the names he is evaluating for his Council of Ministers we might also see a person who comes from Larnaca, Mr. Christodoulidis said that "there will be a presence from all regions of Cyprus based on one basic criterion." The criterion is the ability to be able to serve and work for the implementation of our program and I can tell you that in the city of Larnaca there are several worthy men and women who can successfully respond to these tasks, he added.&nbsp ;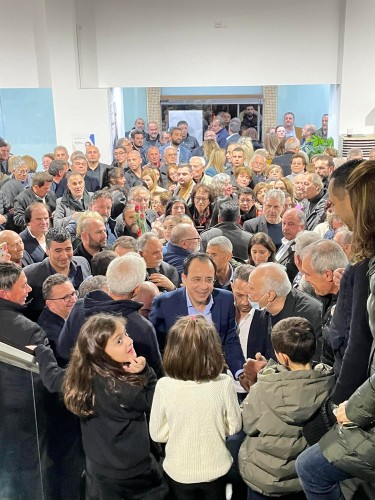 In his speech, Mr. Christodoulidis said that he will be the President of all Cypriots. He noted that "since March 1 we are judged daily and we want to be judged daily by the Cypriot people. I want to promise you that everything we mentioned during the election campaign, we will implement. It is our contract with the Cypriot people," he said.
"The second thing that I kept from this election campaign as a very beautiful memory was the fact that all this time you all opened your homes to receive me, we talked together, you helped me to better understand clearly what the problems are, what they are the difficulties, what are your expectations from the governance of the country and I want to promise you today that it is precisely on the basis of the priorities that you have highlighted to us all this time that we will move from March 1,' he added.
He said that "with my presence tonight in Larnaca I also want to send a message. A message to all political groups. Today I had meetings with several leaders of political parties, tomorrow I will have meetings with the President of the Democratic Alarm, Averof Neofytou, with the General Secretary of AKEL, Stefanos Stefanou, and I will continue the meetings in the following days until February 28, the day I will present myself to the Parliament of the Representatives, to put into practice what I really believe and it will help us to respond clearly better to your own expectations, in the formation of a government of broad social acceptance".
"An inclusive government, which was something that I promised it during the election campaign», he said, adding that "By joining forces we can clearly better respond to all that we have to give to the Cypriot society. Let's face all these challenges which have neither a partisan character nor an ideological origin".
A party was organized in Mr. Christodoulidis's staff by his supporters in which citizens of all ages participated.
Read also: He saw the "allies" of the new PtD – He sees Averof and Stefanou
tomorrow