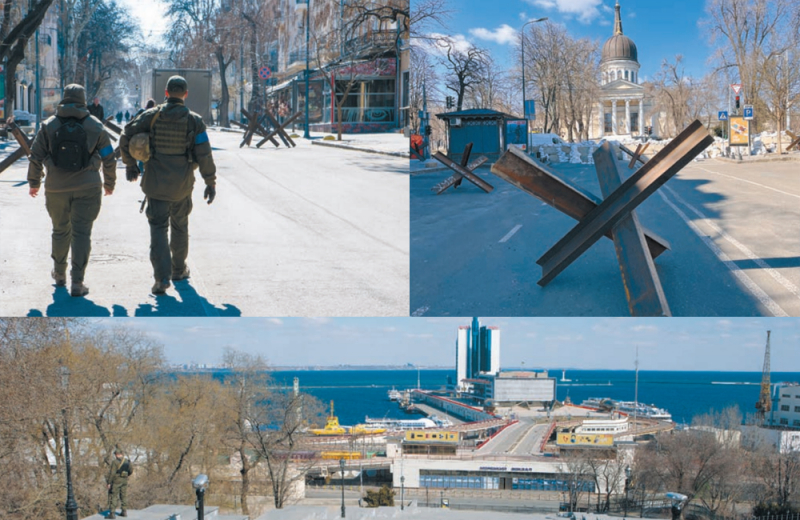 Mission: Costas Konstantinou, Eleni Papadopoulou
Odessa, second day. Freezing everywhere. In the air, with a degree of Celsius and with a wind that you feel piercing you where it succeeds, but also in the atmosphere. The city today looks a little more numb than yesterday, and it makes sense. Another night of torturous waiting for a possible attack or an attempt to land by the sea. Now we understand exactly how it is because we have experienced it. We experienced it in Lviv with the sirens of the air defense, we experienced it even more on the train, there along with that difficult feeling that you may be trapped in a moving target. And now we live it more than both in a city surrounded by land and sea, which is awake waiting for the blow. For us, of course, it is an experience with an expiration date, in the good sense, even if everything goes well. For them it's their lives, which, even if they survive, no one can know what they will be like and what they will mean after a war.
Alarm up
We walk around the perimeter of the historic center, looking for a place to drink coffee and eat something for breakfast. Other places were closed today. We saw some of them open yesterday. We find a small cafe. Faye no longer exists, the clerk tells us, unfortunately. They only have coffee. We drink from two doubles to fight it a little with the fatigue that no longer goes away with sleep, but also because we do not know when we will be able to find the next one. In a store below, there are some croissants left. The treatment looks royal. At the entrance for the sealed part of the center we learn that we can no longer enter at all and that only with accompaniment from the Ministry of Defense is it allowed anymore. Our link there is trying to talk to them over the phone. The instructions are explicit. He promises to take us back and in a little while indeed, he gives us a point and tells us that a small team of BBC, Al Jazeera and a French channel got the special permission and will enter. He arranged for us to join the group. Look for Serhi, he tells us, they are waiting for you.
More about the issue in the printed version of "P" and for the subscribers of CITIZEN PREMIUM daily from 05:00 in the morning.