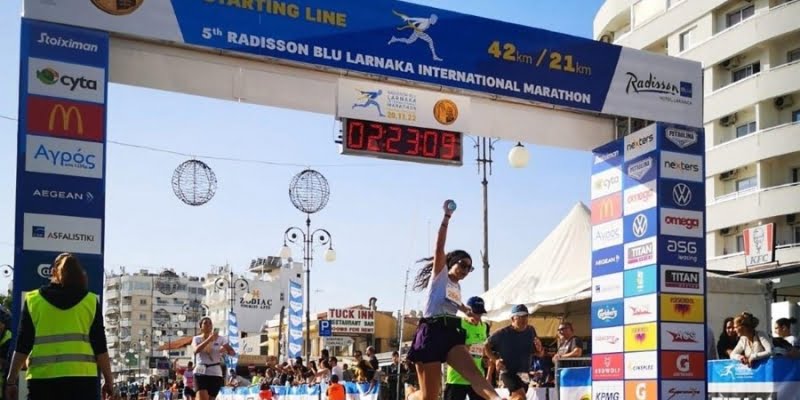 More than 12 thousand people from 75 countries including South Africa, Poland, Kazakhstan, Bulgaria, Slovakia and Greece, participated in the 5th Radisson Blu International Larnaca Marathon, which was held yesterday, Sunday, November 20 in the city of Zeno.
In a statement from the organizers it is stated that "the 5th Radisson Blu Larnaca International Marathon went down in history as the most crowded marathon of the event, after a record number of participants was set, with more than 12,000 runners taking part".
The Minister Health Michalis Hatzipandelas ran again this year, participating in the Half Marathon, supporting the "One Dream, One Wish" Association, it is added.
Among the participants in the 5th Radisson Blu International Larnaca Marathon were "22 visually impaired runners, blind athletes and athletes with impaired vision, from Jerusalem and Haifa, who ran and managed to finish with the help of volunteer chaperones. Besides, Austin Powers from England traveled thousands of kilometers to be in Larnaca and run with his wheelchair, sending strong messages of perseverance and effort to the whole world.
In the announcement of the organizers, it is also noted that "among the most special moments of this year's Marathon, there was also the case of friends of the organization who ran with their carts, eliciting the loudest applause from the spectators. Besides, a team from Israel ran again this year, as in previous years, in the Radisson Blu International Marathon of Larnaca, but in memory of their friend Marko, while the Tel Marko» team also ran for this specific people.
Cyta "supported the participation and effort of Andreas Vassiliou, an athlete with mobility problems, who ran 1 km and was awarded for his effort for equal participation".
This year's Radisson Blu Larnaca International Marathon also had particularities since "Yuri Pegushin from Russia who participated in the Half Marathon and at the end proposed to his girlfriend Anastasia, who responded positively".
About "Danielle Godier, a runner from Britain, this year's event coincided with her birthday and she came to Cyprus to participate in the Marathon, running for 4 hours, 51 minutes and 8 seconds. However, a surprise awaited the girl before the start of the Marathon, after the organizers sang her the famous "Happy Birthday". Larnaca Marathon, having a longer beard this year than last time».
The runner «Yanar Yukov from Estonia emerged as the winner of the Marathon despite the fact that the conditions that prevailed yesterday in Cyprus were much better than those of his country where it was ten degrees below zero».
Source: KYPE