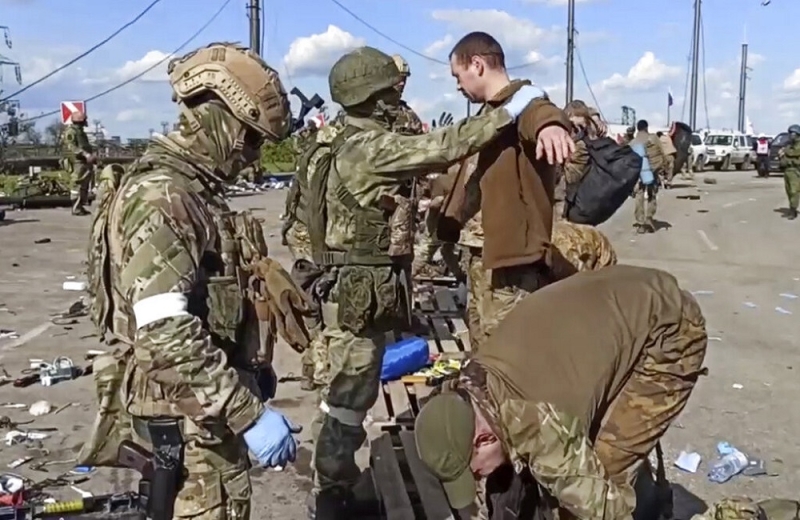 Russia has also officially announced that it has full control of Mariupol, its biggest victory since the start of the invasion of Ukraine on February 24. The Russian Defense Minister said that all the Ukrainian soldiers who had "drummed up" at the Azovstal metallurgical plant had surrendered. At the same time, the bill for even greater US aid to Ukraine traveled by special intercontinental flight from Washington to Seoul, which is visited by US President Joe Biden, to sign it.
The last ones were delivered fighters who remained in Azovstal, Moscow announced, releasing images of Russian soldiers scrutinizing them and asking them to show their tattoos, looking for symbols of Nazism.
The complete evacuation of the last Ukrainian stronghold in Mariupol seems to be confirmed by one of the commanders of Azov's battalion, shortly before boarding a Russian bus.
"The leaders of all 36 divisions are here with me, not "There are other Marines in the factory," said Sergei Volinsky, commander of the 36th Division.
"While the Moscow-Kiev talks are at an impasse, only through diplomacy can the war be ended," Ukrainian President Volodymyr Zelensky said in an interview with his wife. it will be difficult, it will be bloody, there will be battles, but the end (of the war) will be given through diplomacy ", noted V. Zelensky.
With the Russians focused on the complete conquest of the eastern region in Donbass, fierce fighting rages in Severodonetsk, the last enclave of Ukrainian resistance in Luhansk.
A Sky News crew was found in the flat town of Bilohorivka, where Russian forces suffered one of their most humiliating defeats last week as they tried to cross the river and occupy Severodonetsk, paving the way for Donetsk.
Heavy weapons shipments from the West, intended to support Ukrainians fighting in Donbas, were reportedly destroyed by Russia near a railway station in Zatomir, using a Caliber missile, while a Russian professor at Moscow University in Moscow said is a rehearsal for a larger conflict between Russia and NATO.
"For us, the war in Ukraine is a rehearsal. Rehearsal for a possible bigger conflict in the future. We will test and compare NATO weapons with our own. We will see on the battlefield how much stronger it is than ours, "said Alexei Fenenko, a professor of political science at Moscow University.
Kyiv's immediate weapon is that it was airlifted in the form of an urgent bill to President Biden in Seoul, a bill that provides for additional $ 40 billion in military aid to the Ukrainians.
Even in Kharkov, from where the Russian forces have withdrawn, the bombing continues. A cultural center was hit by a Russian rocket, injuring seven people, including a child.