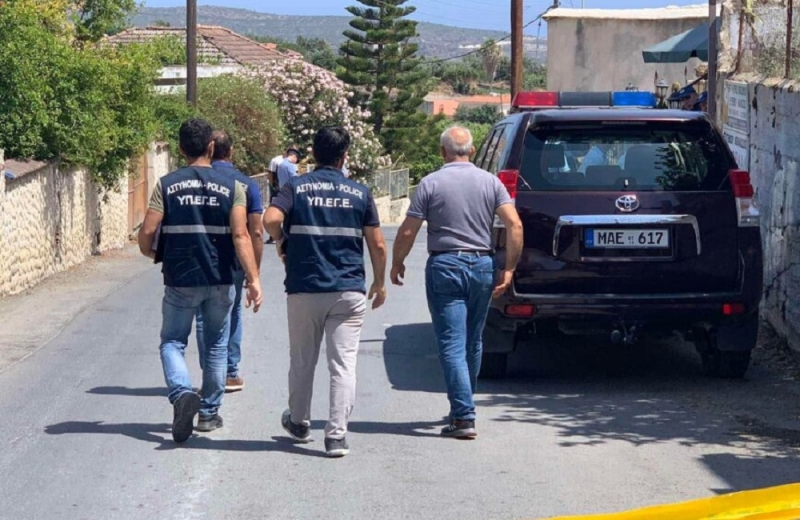 Police are investigating a case of murder and attempted murder, after locating two dead and two injured people, in the province of Limassol. Michalakis Magkas Dimitriou (victim), 79, from Limassol Tower, and Stylianos Christofi (perpetrator), 59, also from Limassol Tower, were found dead, while two women, aged 77 and 73, were found injured.
Specifically, around 12.00 on Wednesday afternoon, the Police received information that a man was seen moving away from a specific house in the village of Pyrgos, Limassol, possessing a firearm, while a fire had broken out in the house.
Members of the Police rushed to the spot, where members of the Fire Service were trying to extinguish the fire. When the fire was extinguished, 79-year-old Michalakis Magkas was found inside the house, dead, and the 77-year-old and 73-year-old were unconscious. The two women are being treated at the Nicosia General Hospital, with their state of health, according to the treating doctors, being considered out of danger.
Around 2.00 pm, after information, it was located by members of the Police , in an open space in a rural area of ​​the village of Pyrgos, 59-year-old Stylianos Christofi is dead. The 59-year-old suffered a gunshot wound. Next to him was a shotgun, while his car was at the scene.
According to the information under investigation so far, around 12.00 on Wednesday afternoon, the 59-year-old went to the 79-year-old's residence, where
the 79-year-old, the 77-year-old and the 73-year-old were. The 59-year-old, who allegedly had a shotgun and a plastic container in his possession, left the scene. of the 73-year-old are being investigated, with the examinations being continued by the Limassol TAE.