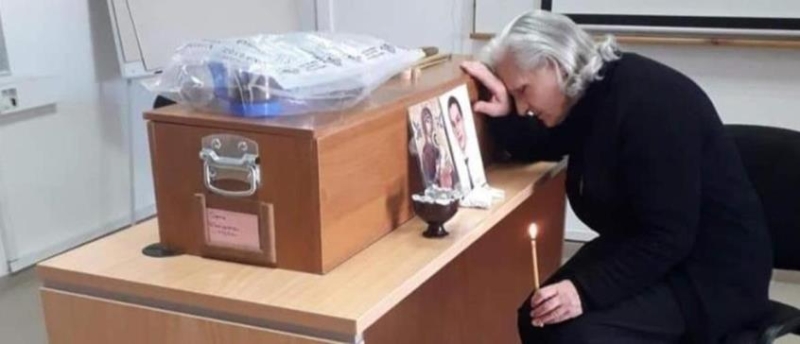 Since September 2005, when her son was found dead under the Alassa bridge in Limassol, the mother of the soldier Thanasis Nikolaou, climbs her Golgotha, in a an attempt to be justified, against those who covered up and continue to cover up the murder of her son.
At the same time, Adriana Nikolaou, through her lawyer, gives an ultimatum to the Legal Service, as otherwise it is expected to proceed with private criminal prosecution against those involved, while at the same time lawsuits against the Republic of Cyprus are in the pipeline.
"All I know is that I was called and I took my son's clothes for examination. Instead of the arrests being made, since they know them, without further ado they continue to trouble us. The perpetrators walk free and unpunished among us. There continues to be a major cover-up of these murders. These killers must be directly related to all those who cover it up to this day. They are corrupt, please give them up and go home. He has reliable and incorruptible to take the positions. Their purpose was to dispute facts and not to exploit them. We don't trust anyone, they all cheated us. He has been crying his blood under the bridge for 18 years. For God's sake," said Ms. Andriana speaking on state television.
Then his mother Thanasis said that "we gave them some incentives and they had to investigate them, I don't know what they did. We have a picture. My son was killed by army officers… Let me put it this way. It's the moves, they scared him and killed him. But who are the people involved in these white death trade circles? I can't take it anymore, honestly. Too many have shown understanding, but are swayed by some others behind them. When justice is murdered, no President, no Prosecutor and no Chief of Police, no Speaker of the House should sleep.
Each President and each Prosecutor kicks the case from one to the next to the next to pass the time. This has been going on for 18 years where three Presidents ruled and the last one did a full 10 years and now the last one comes to say he shares my pain? So he texted after when I protested. These things are words, who are they still kidding? We are now on the threshold of the fourth and three Prosecutors intervened, what did they do? Because I don't know where the evil lies. They may all change, but those who handled the case, from the beginning and covered it up, will now come to say you are right?"
At the same time, Mrs. Andriana revealed that two days before Thanasis' death, he was very upset and repeatedly begged her to do something to get him out of there.
"For two years now, my first job is to go down to the Police, worship the remains of my son and I say a prayer. This is the first thing I do every day. The other, I'm dealing with the case, my house is full of files, cases, investigations, findings, etc. I'm not in the mood to do anything else. I'm a living dead. I am only tied to this case, for the tragic death of my child. He left in peace. Two days before his death he came to him with an exodus and he was very upset. I had never seen him so upset because he saw them. He repeatedly begged me, "mom, please do something to get me out of there", but I didn't have time. Until now I hear his voice begging me, begging me for something I couldn't do myself. He spoke to officers the day before he died and was found dead the day after. For God's sake".
In addition, Thanasis' mother sent her own message to the presidential candidates, in view of the upcoming Elections. "Whoever comes out, I want to beg him from the bottom of my soul, first they must take into account and act for the security of this place, because we have enemies inside and outside, but also for the survival of the citizens. The other thing that is equally important, is what I experience. Let them see the torture I have been experiencing for 18 whole years. It is not enough that they killed my child, I fight and fight with corruption and their fury is if they cover up the crime and leave the murder of my son in the dark and the killers walk free and unpunished as if nothing happened. These are very important for a citizen living in this place".
In conclusion, Mrs. Andriana said that "when there is no justice, there is no state, there is nothing. It is a shame, a great shame on the part of the Republic of Cyprus, that we believed we live in a state of law, while for 18 whole years the state does not render justice to the obvious crime. Shame on them. They come out and say words, words, words, without us seeing the salvation of this place. I left for Australia before the war and raised my children there and was waiting for a solution to be made for Cyprus and then come back with my family. I waited, waited and 33 years passed. So I decided and I bring three lavenders here, ready for the army too and a daughter and take my child to the army and kill him? The moment I waited so many years for the Cyprus issue to be resolved, because I was afraid of the external enemies, the Turks, and while we have the enemies and the murderers beside us and we didn't know it. To kill my child so unfairly? Is it even possible for me to still fight? Did I have to dig it up, so that my child would tell the truth, even if it was dead? It's not just my child, I dug up, I also dug up the truth, I also dug up the corruption in this place".