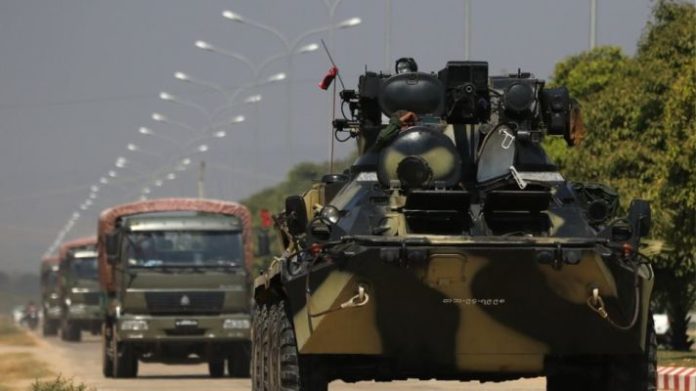 Facebook has shut down all remaining accounts linked to the Myanmar military over the junta's use of "lethal violence" against pro-democracy protesters, the platform said in a statement today.
The decision, which takes effect immediately, concerns the military and entities controlled by the Myanmar Armed Forces on Facebook and Instagram, and also bans any advertising.
"The events of the February 1 coup, including the deadly violence, have accelerated the need for this ban," Facebook said in a statement. "We believe that the risks of allowing Tatmandau (Myanmar army) on Facebook and Instagram are very high," he added.
For the past three weeks, generals have not stopped using violence to weaken pro-democracy mobilization in Myanmar, where thousands of people take to the streets every day to protest.
The death toll from the coup rose to 5 on Wednesday, following the death of a 20-year-old man who sustained his injuries in Mandalay, in the central part of the country.
The ban is intended to prevent generals in Myanmar from "abusing our platform," the statement said.
The military has used Facebook extensively to spread allegations of electoral fraud in the November election, which was won by Aung San Suu Kyi's party.
Following the coup, the junta has arrested hundreds of pro-democracy protesters, ordered overnight internet crashes and banned many social media sites, including Facebook, in a bid to weaken the movement against the military coup.
Today's announcement follows Facebook's decision last weekend to ban True News, the main page run by the regime's intelligence service, which has been accused of inciting violence.
The pages of government institutions now run by the junta are not affected by this ban. "This ban does not cover government ministries and services that have as their task the provision of basic public services," the statement said. "These include the Ministry of Health and Sports and the Ministry of Education," it added.
In recent years, the social media giant has banned hundreds of pages linked to the military, but continues to be criticized for being ineffective in the fight against malicious publications in the country.
Junta leader Min Aung Hlaing and other high-ranking officials were ousted from the platform in 2018, a year after an army crackdown forced some 750,000 members of the Rohingya Muslim minority to flee to neighboring Bangladesh.
That same year, Facebook acknowledged that it had not done enough to curb incitement to violence in Myanmar. "We can and must do more," said Alex Varofka, a company executive at the time.