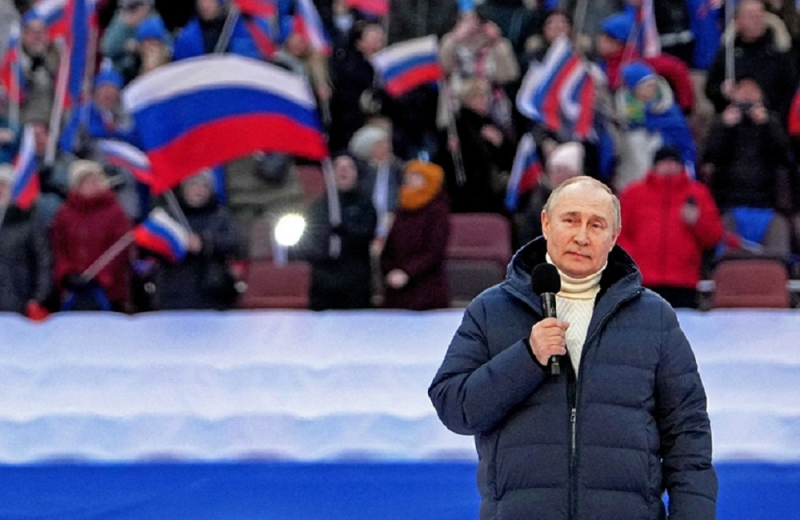 The interruption of the television connection, at the time of Vladimir Putin During a rally at Moscow's Luzhniki Stadium on Friday afternoon, he spoke in support of the US Alliance, but said that maintaining some independence was not the answer. "genocide committed in Donbass" , the live broadcast was interrupted on state television to broadcast images of patriotic raids and songs that had been "played" earlier in the event.
Here's video of Putin suddenly vanishing mid-sentence. Where is he?! pic.twitter.com/c6VqE6GG3s

— max seddon (@maxseddon) March 18, 2022
"A genocide was committed in Donbas. "The goal of the operation in Ukraine is to get rid of this situation," Putin said in a speech at a concert, noting once again that the people of Crimea made the right choice in 2014, as "They wanted to live on their own, historic land, the Russian Federation."The Russian president said, praising the Russian military for the bombings in Ukraine. A short time later, Dmitry Peshkov explained that the broadcast of Putin's speech at the concert was abruptly interrupted due to a technical failure of the server.
Concert with paid applause
Putin's speech was part of a rally and concert in support of his government on the eighth anniversary of the annexation of Crimea to the Russian Federation.
Vladimir Putin's supporters filled Luzhniki Stadium in Moscow and where the 2018 World Cup final was held, to participate in a rally in support of the invasion of Ukraine. In fact, the date of this event, called "Concert for a World Without Nazism", was not chosen at random, On March 18, 2014, the Kremlin formalized the annexation of the Republic of Crimea to Sevastopol.
Dystopia Revisited – Luzhniki Stadium today pic.twitter.com/2eUXmqEbYq

— D.Emery (@DemeryUK) March 18, 2022
Of course, the criticism on social media is intense since, as several accounts broadcast, the gathered people have received payment to give the "present". "The vast majority of the world & # 8211; gathered at Luzhniki Stadium & # 8211; is paid. This ad offers 300 RUB. I have seen payment reports up to 1,400 RUB. "Obviously most of the Kremlin executives will not attend the terrorist attack," said a Twitter user.
https://twitter.com/DemeryUK/status/1504789087995191297 ? ref_src = twsrc% 5Etfw
Pictures posted on social media show the inside of the stadium full of people and Russian flags, while the screens show pictures against Ukraine. According to Max Sendon, head of the Financial Times delegation in Moscow, there are reports that the organization has prepared several buses with civil servants to make sure the stadium is full.
The same organization announced that it expects attendance about 100,000 people inside Luzhniki and about 400,000 outside. Many concerts will be held during the rally and President Vladimir Putin will address the crowd.
Watch video:
https: //twitter.com/maryilyushina/status/1504793891303743491?ref_src=twsrc%5Etfw
A Pro-Kremlin rally to mark the 8th anniversary of Russia's annexation of Crimea is about to take place at the Luzhniki stadium in Moscow. Reuters and others have reported that state employees have been pressured to attend the event pic.twitter.com/rAtYA78Hxq

— Pjotr Sauer (@PjotrSauer) March 18, 2022
Moscow's Luzhniki stadium, which hosted the World Cup final in 2018, is packed out for a pro-war rally on the anniversary of Russia's Crimea annexation.

Lots of reports of state employees being bussed in. They're watching a video with Ukrainian flags being thrown to the ground pic.twitter.com/fIKEzD5WnV

— max seddon (@maxseddon) March 18, 2022
Luzhniki Stadium in Moscow

More than 130 thousand people came to the festive concert and show their support for the Russian army. pic.twitter.com/QVnIQEZb1C

— Spriter (@spriter99880) March 18, 2022