21:23 Thursday
March 17, 2022 INSIDER • GOAL • IN-CYPRUS • PROPERTY • CYPRUS-IS • CAREER LIKE • GOING OUT • XRYSES SYNTAGES • ACTIVE • PHILGROUP NEWS & nbsp; SOCIETY & nbsp; INSIDER & nbsp; OPINIONS & nbsp; GOING OUT & nbsp; CULTURE & nbsp; SPORTS & nbsp; AUTO & nbsp; GOOD LIFE & nbsp; USEFUL & nbsp; PRINTED EDITION & nbsp;
ARCHIKIEIDISEISPOLITIKITOPIKAPARASKINIOMEDIAELLADAKOSMOSEPISTIMIPERIVALLONTECHNOLOGIASYNENTEFXEISCHRYSES ETAIREIESKOINONIAEIDISEISKYPROS OF CHTHESANAGNOSTI HAVE LOGOEPISTOLESSYNENTEFXEISDIMOFILI IN INTERNETVIDEOSAFIEROMATAADVERTORIALINSIDEREPICHEIRISEISKYPROSBRAND VOICECAPITALFORBESBLOOMBERG OPINIONPROTAGONISTESKAFTI GRAMMICHRYSES ETAIREIESKARIERAAPOPSEISARTHRA IN "F" INTERVENTION IN "F" MESSAGE YOUR SKITSAO WORLD TWITTERGOING OUTTHINGS TO DOCINEMAMOUSIKIESTIATORIABAR/CAFETV ODIGOSTILEORASIPOLITISMOSKYPROSKOSMOSKRITIKESEKDILOSEISPROSOPAATHLITIKAPODOSFAIROMPASKETPARASKINIAELLADADIETHNIALLA SPORAPOPSEISSKITSOVIDEOSAUTONEAPAROUSIASIAPOSTOLESAGONESKALI ZOIFGEIADIATROFIEF ZINASTRACHRYSES SYNTAGESSYNTAGES SEFVIMA VIMACHRISIMAFARMAKEIAGIATROIAERODROMIALIMANIATILEFONAOPAPKAIROSSYNALLAGMALACHEIAAPPSPROSFORESENTYPI EDITION POLITIKITOPIKAPARASKINIOMEDIAELLADAKOSMOSEPISTIMIPERIVALLONTECHNOLOGIASYNENTEFXEISCHRYSES COMPANIES EIDISEISKYPROS OF CHTHESANAGNOSTI HAVE LOGOEPISTOLESSYNENTEFXEISDIMOFILI THE INTERN ETVIDEOSAFIEROMATAADVERTORIAL EPICHEIRISEISKYPROSBRAND VOICECAPITALFORBESBLOOMBERG OPINIONPROTAGONISTESKAFTI GRAMMICHRYSES ETAIREIESKARIERA ARTICLES IN "F" INTERVENTION IN "F" MESSAGE YOUR SKITSAO WORLD OF TWITTER THINGS TO DOCINEMAMOUSIKIESTIATORIABAR/CAFETV ODIGOSTILEORASI KYPROSKOSMOSKRITIKESEKDILOSEISPROSOPA PODOSFAIROMPASKETPARASKINIAELLADADIETHNIALLA SPORAPOPSEISSKITSOVIDEOS NEAPAROUSIASIAPOSTOLESAGONES YGEIADIATROFIEF ZINASTRACHRYSES SYNTAGESSYNTAGES SEFVIMA STEP FARMAKEIAGIATROIAERODROMIALIMANIATILEFONAOPAPKAIROSSYNALLAGMALACHEIAAPPSPROSFORES ENTERPRISES LTD BRAND VOICE CAPITAL FORBES BLOOMBERG OPINION PROTAGONISTS HOT LINE GOLDEN CAREER COMPANIES
EXCLUSIVE COOPERATION
TOGETHER WITH
Next Previous Prefecture of Pileidou: The Trademark gives recognition to a company HOME • INSIDER • CYPRUS • Prefecture of Peleidou: The Trademark gives recognition to a …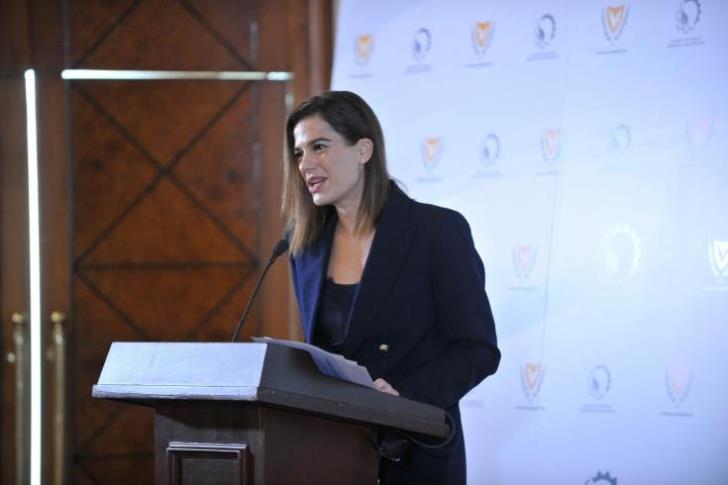 & nbsp & nbspInsider/ΚΥΠΕ & nbsp; & nbsp;
The importance of protecting the Intellectual and Industrial Property of companies, stressed the Minister. Of Energy, Commerce and Industry, Natasa Pileidou, welcoming the online event "Ideas Powered for Business, Cyprus", co-organized by the European Union Intellectual Property Office (EUIPO) and the Registrar of Companies and Intellectual Property.
The Minister stated that the protection of Intellectual Property, ie Intellectual and Industrial Property, plays an extremely important role in the development of business activity, as the Trademark gives recognition to a company and protects its products and services, covering them from confusion. and copying. "At the same time, the Industrial Design protects the exterior design or appearance of a product; of Intellectual and Industrial Property, through its registration in official Registers, guarantees the exclusive right of economic exploitation.
Reiterating the Ministry's support for such events, Ms. Pileidou also welcomed the decision of the European Union Intellectual Property Office to increase the grant rate compared to last year's plan, as well as the addition of new eligible grant services. However, she also expressed her satisfaction with the fact that from next April, Cypriot companies will be able to apply for a grant for the IP Scan diagnostic service.
"IP Scan is a consulting service that aims to design an Intellectual Property Strategy for small and medium-sized enterprises, as it will emerge from their business data, products and services," he explained, adding that it can help businesses decide what intellectual property rights they will apply for, how to develop their Intellectual Property portfolio, and even their future plans.
Referring to the results of last year's Ideas Powered for Business SME Fund, she said that A total of € 76,587 was paid to 149 small and medium-sized enterprises in Cyprus and 197 small and medium-sized enterprises of foreign interests that registered their trademark or industrial design in the Cypriot Registers. "I am absolutely certain that these numbers will increase significantly in 2022, with the upgraded grant program," he said, confirming that the Ministry will continue to promote the event, encouraging all Intellectual Property owners to take advantage of the program.
< p>