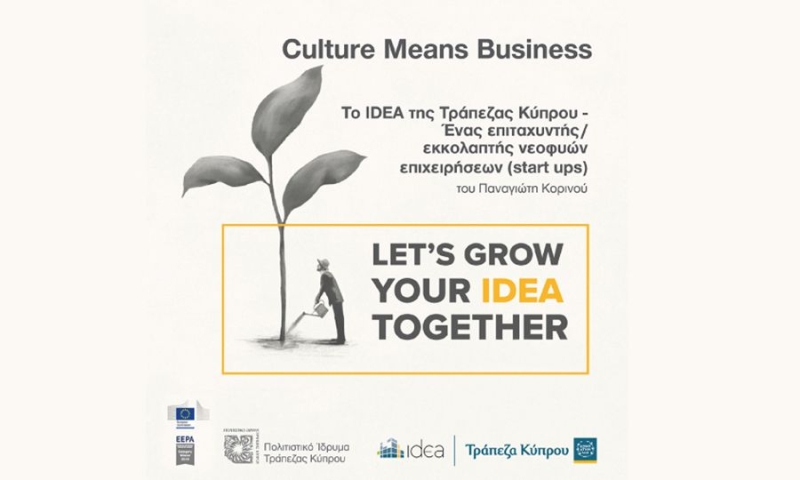 The series of online lectures "Culture means business" of the Cultural Foundation of the Bank of Cyprus, is enriched with the new episode "The IDEA of the Bank of Cyprus – An accelerator for start ups", < /em>of Panagiotis Korinos – Director of the Innovation and Entrepreneurship Center of Bank of Cyprus, which will be presented on Wednesday, August 9.
Lecture topic:
The Bank of Cyprus IDEA is the largest non-profit, integrated innovation center in Cyprus, a business incubator that forms a cluster of more than 120 private and public partnerships, supporting innovative start-ups and fostering a culture of change and digital transformation.
Bank of Cyprus and other partners founded IDEA in 2015 as a business center and incubator for start-ups. IDEA is fully funded by the Bank of Cyprus as part of its social responsibility to support those who have an innovative idea related to an innovative product or service to commercialize it. That is, to turn it into a sustainable business with an international perspective.
IDEA offers each participating start-up a package of support in cash and services. It provides initial capital (seed funding), training to create a business, mentoring services, consulting services and office space. Through its team of partners, it also provides networking and business development opportunities, investor connection and complimentary professional services.
IDEA is not limited to a specific industry. Rather, it aims to attract and support young entrepreneurs who are enthusiastic about developing innovative products or services that offer a profitable exit opportunity to investors. IDEA graduates come from a variety of fields including fintech, artificial intelligence, cyber security, green shipping, arts and culture, real estate, e-commerce, healthcare, education and more.
What is important is to have competent teams to work on these ideas and turn them into viable businesses with an international perspective.
To date, IDEA has evaluated 810 applications from which 89 startups were selected to participate in its program, creating more than 110 jobs and helping more than 200 entrepreneurs. Of these, 43 have graduated and 32 are still operating, most with revenue and several with profits.
Brief bio of the speaker:
Mr. Panagiotis Korinos leads the Center for Innovation & of Entrepreneurship of the Bank of Cyprus, having responsibility for the IDEA Innovation Center – the largest Accelerator-Incubator for startups in Cyprus and the Business Academy.
During his long career in the banking sector, he served in various departments and positions that enabled him to engage in Intrapreneurship. He served as Director of the Bank's Leasing Department, Secretary and President of the Association of Financial Institutions promoting the well-meaning interests of members in the various government departments and the House of Representatives. He served as Head of the Bank's Governance Department. In these contexts he served as secretary of the Bank's Appeals Committee. As Director of Personal Lines in General Insurance, he now leads the Center for Innovation & of Entrepreneurship of the Bank of Cyprus.
He holds a BSc (Hons) degree – First Class in Business Finance and Economics – University of East Anglia, an MBA with specialization in New Ventures (London University), a diploma from Imperial College and is an Associate Member of the Institute of Chartered Accountants in England and Wales (ICAEW).
< iframe width='300px' height='500px' src='https://www.adstorebluebird.cy/api/banner/ServeBanner?zoneId=2734' frameborder='0' scrolling='no'>