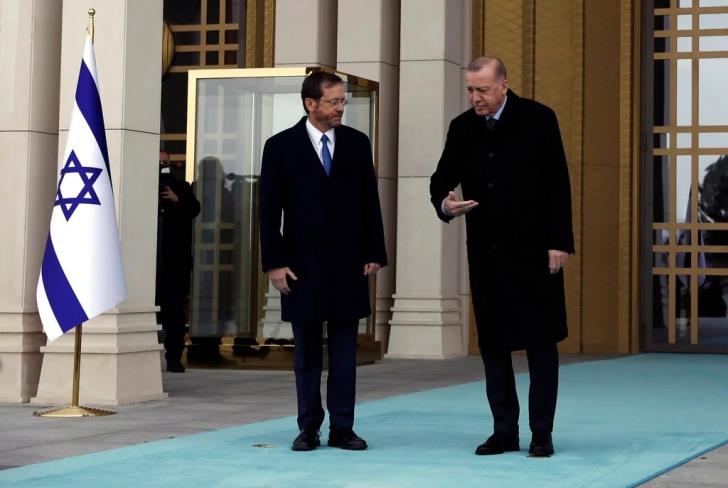 & nbsp & nbsp Andreas Pimpisis & nbsp; & nbsp;
The situation is favorable for the energy of the Eastern Mediterranean and Turkey, having managed to keep equal distances in the war in Ukraine, wants to take advantage of this momentum through the upgrading of its relations with Israel. Welcoming the Israeli President to Turkey, Recep Tayyip Erdogan, referred to Turkey's readiness to cooperate with Israel in the field of energy. Shortly before leaving Ben Gurion Airport, Isaac Herzog had equated Greece and Cyprus with regional cooperation. & Nbsp;
Turkey and Israel have so far managed to acrobatic in the Ukraine crisis in a way that does not cause damage to both countries. Both Ankara and Jerusalem have been moving between Russia and Ukraine lately, trying to contribute to the dialogue between them, but at the same time without participating in the harsh measures against Russia. It is no coincidence that Turkey, in addition to Herzog's visit, has managed to gather international attention in the presence of the Foreign Ministers of Russia and Ukraine. Following are the visits of the Prime Minister of Greece and the Chancellor of Germany. & Nbsp;
SEE ALSO: Tayyip Erdogan in the guise of a peacemakerSpeaking after the meeting with the Israeli President, Recep Tayyip Erdogan said that the common goal of the two countries is to revive the dialogue between them, based on common interests. "It is up to us to restore the culture of peace, tranquility and coexistence in our region. "If we promote bilateral co-operation and regional dialogue, it will be easier to tackle the issues we disagree on," he said.
On energy, he said he said he was ready & nbsp; for co-operation in this area as well as for energy security. "Turkey has the experience to implement such projects," he added. The Turkish President said that they exchanged views on regional issues, especially Ukraine and the Eastern Mediterranean. "This is an opportunity for energy cooperation," he said. Turkish Foreign and Energy Ministers to visit Israel in coming weeks. & Nbsp;
In a statement, Isaac Herzog said: "Our relations between our countries and our peoples have ancient roots." "Israel and Turkey can and must work together, which will have significant implications in many areas," he said. The Israeli president said that "the Turkish foreign minister will visit Israel and meet with his counterpart", adding that "this will allow the dialogue to continue". "We have to keep this dialogue open in all directions. "In recent weeks, we have seen once again how bad the wars are and the importance of building bridges between peoples," said Isaac Herzog. & Nbsp;
In statements he made at Ben Gurion Airport, before leaving for Turkey, Isaac Herzog had stressed that in the equation of cooperation in the region are both Greece and Cyprus, referring to the trips he had made to the two countries. & Nbsp ;
Bilateral trade not affected & nbsp;
Relations between Ankara and Tel Aviv reached a tipping point after the Israeli attack on Mavi Marmara, bound for Gaza, in international waters on 31 May 2010, which resulted in the death of nine Turks. The ambassadors withdrew, Turkey offered conditions for normalization. As a result of negotiations that stalled from time to time and lasted for years, the two countries reached an agreement in June 2016 and the new ambassadors took office in Tel Aviv and Ankara at the end of 2016.
However, despite the stagnation in diplomatic relations during this period, trade relations with Israel continued to be generally positive. According to the Turkish Statistical Service, while the volume of trade between Turkey and Israel has increased in the last 5 years, it broke a record last year and reached 8.4 billion dollars. The volume of bilateral trade reached 6.2 billion dollars in 2020.
Mitsotakis and after Solts & nbsp;
The program of contacts of the Turkish President is constantly renewed with new visits. On Sunday, Recep Tayyip Erdogan will meet with the Prime Minister of Greece, Kyriakos Mitsotakis, and on Monday with the German Chancellor, Olaf Solz. & Nbsp;
windows "of the dialogue, while assuring that he will attend the meeting with the Turkish President with a productive mood and" measured and realistic "expectations. "My firm position is that the 'windows' of dialogue always remain open, just as our doors remain closed to any threat," said Mr Mitsotakis.
German-Turkish bilateral relations, as well as regional issues in the shadow of the war in Ukraine.